Chanticleer Sings at PA Farmshow Complex
Students in Chanticleer performed at the PA Farmshow Complex in Harrisburg, PA on Dec. 4, 2019.
Chanticleer is the select choir for the high school choral music program; students are selected through an audition process.
Choir teacher Jay Althouse leads Chanticleer every year at the performance.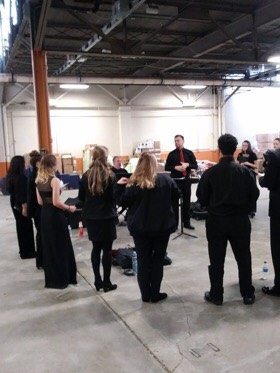 "Chanticleer performs at each of the three large choral concerts a year, plus they perform for numerous other community events and organizations throughout the year such as SHS Tri-M Music Honor Society's Downtown Sounds event, at nursing and retirement homes, YMCA, veterans events and the former Women's Club of Glen Rock," said Althouse.
Each year the owner of the PA Christmas Show invites Chanticleer to perform at the Farmshow Complex.
They prepare to perform by rehearsing once a week from 3-4:45 p.m.
"We rehearse our music in our weekly rehearsals, working on pitches, dynamics, blending, tone quality, musical phrasing, etc.," said Althouse. "However, since the PA Christmas Show takes place in large, open spaces, we talk about how to be heard in these types of performance venues throughout using breath support, strong diction and good vocal placement in order to not overuse/hurt our voices."
Many of the students thoroughly enjoy their experiences with Chanticleer over the years.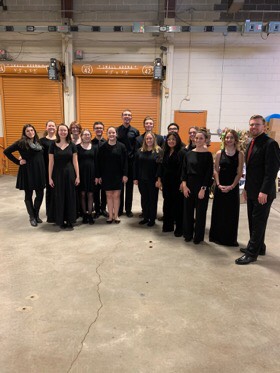 Senior Chase Watkins has been in Chanticleer for all four years of high school, as well as in choir for seven years.
"The experience of Chanticleer overall is indescribable," said Watkins. " I love every moment from traveling around and singing for a variety of venues to just relaxing with some friends and making music.
Sophomore Reagan Czahor has also been in Chanticleer for two years of high school.
"I love the experience of being able to sing in a small ensemble with others who I know have the same musical goals as I do," said Czahor. "As an ensemble and the music department as a whole, we are extremely fortunate to have a school that cares so much about our music program, which provides so many students with a place of belonging. "
About the Writer
Kaylee Martin, Reporter
Freshman Kaylee Martin is a new reporter for the SHS Courier. She is excited to start reporting and to bring news to the school. She takes part in the...