HOMECOMING: Beyoncé's Greatest Project Yet
2019 has proven to be yet another year fans can label as "Beyoncé's year," as she rolls out a wildly successful Netflix documentary titled "Homecoming" and a live album of the same name, all depicting her 2018 Coachella music festival performance.
The singer has been discovering her sound since her early days in the popular girl group "Destiny's Child" with their first eponymous album debuting back in 1998.
Since her days as a lead in an all-female singing group, Beyoncé has paved a way for herself and others in the mainstream pop industry, possibly claiming her title as one of the greatest live performers of all time.
"Homecoming" was her comeback performance at the Coachella music festival in 2018 as a return from her hiatus after giving birth to twins the year before.
The performance became an important vision in her catalog and is labeled as a performance that will be at the top of everyone's list while thinking of her live performance capabilities.
Being the first African American woman to headline the festival, according to her Netflix documentary, "Bey" was determined to create a true spectacle that evoked her past in many college level bands and color guards, along with displaying the true essence of "black excellence."
"Black excellence" has been a term often given to African Americans of great wealth, class and accomplishment throughout history.
However, in more contemporary times, the term has been extended to all African Americans in order to elevate the commonly oppressed group of people in the United States and beyond.
Beyoncé understands this vision of lifting every black American to the same levels of all Americans and creating an equality-filled  future for our children to experience.
In "Homecoming," seen in the "behind-the-scenes" style Netflix documentary, Beyoncé elevates a nearly all-black orchestra on bleachers in a college-game style.
The young creatives can be seen dancing, singing, playing instruments within one of the most grand performances of all time with its shadow lingering on the festival a year later in 2019, as argued by Sidney Madden of NPR news.
For the first of the two projects recently released in the "shadow" of her 2018 performance, the "Homecoming" Netflix documentary is an approximately two hour long feature of the entire length of the Coachella performance with interludes depicting the preparations from the crew members, dancers, singers and Beyoncé herself.
"I wanted a black orchestra," Beyoncé states in the film, expressing her interest in creating a platform for young black creatives to show the world what "black excellence" can be in addition toholding office as president.
To discover the orchestra, Beyoncé called upon the services of DRUMline Live, according to Sidney Madden of NPR news.
After sorting through tons of musicians and dancers, she was able to create the most perfect vision of the power she wanted to depict with her performance.
The film is a gift to fans after a year of waiting for some sort of view of the performance for those who did not attend.
Showing her wild dance moves, intense vocal ability and high-quality stage production, the documentary proves to be nearly as epic as the performance itself.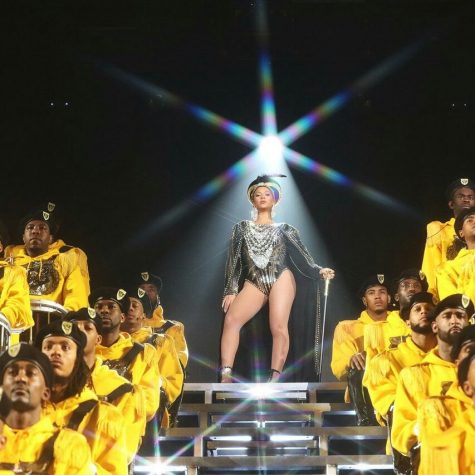 In addition to her deal with Netflix for the first of what fans learned would be three documentaries, she released a full length live album of the performance, including interludes.
The album strays away from the visual aspects of the documentary and allows fans to experience the music for what it is.
Powerful renditions of her songs "Sorry," "Don't Hurt Yourself" and "Hold Up," all off of her most recent studio album "Lemonade," showed her vocal control and ability during intense, high energy performance.
In addition to her commercially successful singles, the singer introduced a tear-jerking cover of the "negro national anthem," "Lift Every Voice and Sing," originally written as a poem by James Weldon Johnson in 1871, later nicknamed the "negro national anthem" by the NAACP in 1919.
Her performance, as heard on the live album, is truly breathtaking as it follows the intense musicality of "Freedom", a single off of "Lemonade," and displays her voice over top of gut-wrenching cries for, what it seems, justice by her orchestra.
This moment will truly go down in music performance history as the quintessence of what it means to be a black American, and the heart-ache, pain, and desire of African Americans in their search for justice in a country currently unable of providing such equality.
The Los Angeles Times set out to discover the opinions of spectators of the performance.
Hilary Hayes, a 32-year-old, discovered a debate at her place of work concerning the performance.
"In this generation, I would say she's neck and neck with Michael [Jackson] in his heyday," said Hayes. "She could surpass him."
Hayes' comment only reflects the many opinions on the performance in 2018 and the continuing support for "Homecoming" in 2019.
The full-length documentary titled "Homecoming" can be found on Netflix, while the live album of the performance can be found on all major streaming platforms.
She also released her album "Lemonade" on all major streaming platforms on its third anniversary, April 23, as well.
The musical queen has something in store; now it is up to her fans to just wait for what is to come.