JV soccer gains victory over Spring Grove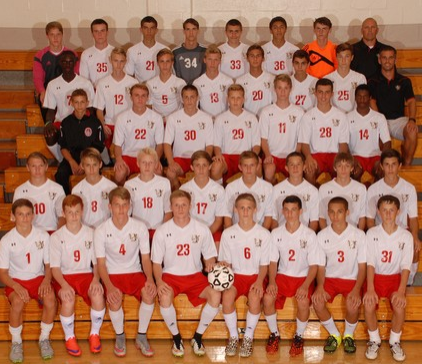 Hang on for a minute...we're trying to find some more stories you might like.
Rain or shine the Warrior boys JV soccer team showed up to play and defeated Spring Grove this past Thursday, October 1,  gaining a victory over Spring Grove, 4-0.
As the morning of the game against Spring Grove arrived, the team figured out what to do to get around the defense to score. Sophomore player Connor Dills knew the team needed to reach out to each other to be successful.
" Spring Grove is a pretty good team, and it should be a good game," said Dills. "If we pass around the ball to each other and [communicate], we have a good chance of winning."  
The playing  conditions for the game were not ideal ,which showed a little in the first half due to it being slow. But during the course of the second half, the team definitely showed the fans they were there to play. Head coach Brett Maxwell saw a lot of had work throughout the game and was impressed with the outcome.
" in the second half they had a strong offense and defense and a few players that helped us a lot [were] sophomore Josh Smiley and Park Simms. In goal, freshmen players Greyson Daviau and Griffen Kaifer helped us a lot as well," said Maxwell.
The team had control over the game and had a few amazing shots that kept them in the lead. Freshman mid player Anthony Maioranos was able to watch an amazing shot by one of his teammates.
" David Murial-Diaz stood out the most and  had an amazing goal in the game," said Maiorano also agreed by head coach Brett Maxwell.
This game defines how the Susquehannock boys JV soccer team always proves their teamwork and comes to play every game.