With an inclusive spirit, powerful motivation and constant humor, soccer captains junior Erin Jackson and junior Madi Bartlett led the girls soccer team to the Division ll championship for the first time in six years.
The two led the team in beating Northeastern for the division championship by never giving up and continuing to push themselves.
Junior Erin Jackson, the goalie of the team, is very proud of what they were able to accomplish.
"Last year, Northeastern beat us both times we played them," Jackson said. "We were neck and neck this whole season. We had the same record until it came down to one of the last games, and we ended up beating them."
Jackson believes that the win may have been due to the team's chemistry and passion to win.
" I've never been as bonded as a team as I was with the past season with these girls," Jackson said. "…We are very connected and worked through problems, we were very respectful of each other, and I really think that's what made the team different."
Captains Jackson and Bartlett work together to not only make their teammates better players but also people in general.
" [Our goal is] to lead, to guide the team, and to try to make the team better," Jackson said."When there are issues, always try to resolve them. On top of that, definitely just being a role model."
Junior Madi Bartlett, a midfielder, says the season was different from past ones.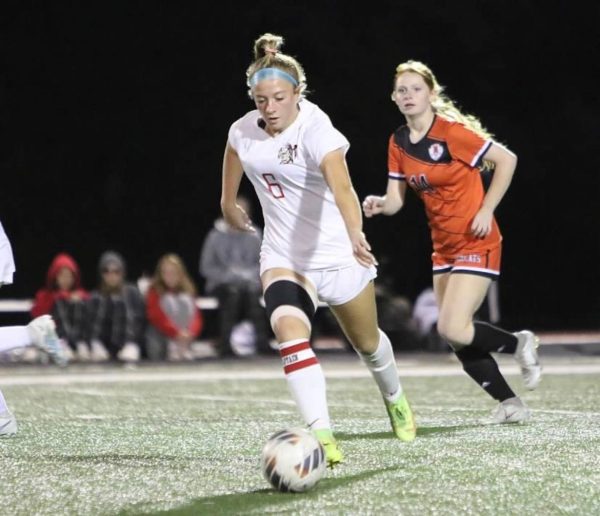 "A lot more people wanted it," Bartlett said. "There was more passion; there were just a lot more people who wanted to win."
The outcome of winning is a big source of motivation for the team to continue to fight.
"We remind each other of what we will get out of it," Jackson said.
Senior Sydney Watson, a striker, has played all four years of her high school career. Each year Watson has played with a different mix of girls.
"I think everyone on the team definitely gelled together and worked together better than the other seasons," Watson said.
As a senior, Watson does her best to lead her team to victory.
"I always tell them to go in with a good mindset; don't go in saying you're going to lose, just be mutual about it," Watson said. "We always say keep your head up and play your game, and don't drop down to the other team's level."
Jackson and Bartlett look forward to the next pre-season to lead the team once more.