With swinging sticks and Warrior spirit, the Susquehannock field hockey team has come into the new season with a drag flick and new goals.
Winning their last game against Eastern York 12-0, and almost every game before that, the team is feeling confident about their future.
On Aug. 31, the Warrior's field hockey team won their first game against Bermudian Springs and ever since then, have been shutting out the competition on just about every one of their games, save for some challenging games ending in ties.
With a streak of wins and two ties, the outlook for the field hockey team's season looks promising to the players.
Varsity Captain and senior Rachel Stiffler, who has played since 4th grade, thinks that the team is solid.
"I want to win counties, but I also want to go further…. I know we are capable of it," Stiffler said.
Along with her hope for the future of the season, Stiffler celebrates the moments that have already motivated them on and off the field. Stiffler hopes to continue to grow the team's relationship along with the victories this season.
"I am super excited for team bonding with the girls because I literally love them all, we are like one big team… we all get along really well," Stiffler said. "We are super uplifting with each other and use a lot of constructive criticism in good ways."
Sophomore varsity goalie Brooke Schabdach, who already has over 100 goals in her varsity career, also thinks the season has a positive outlook.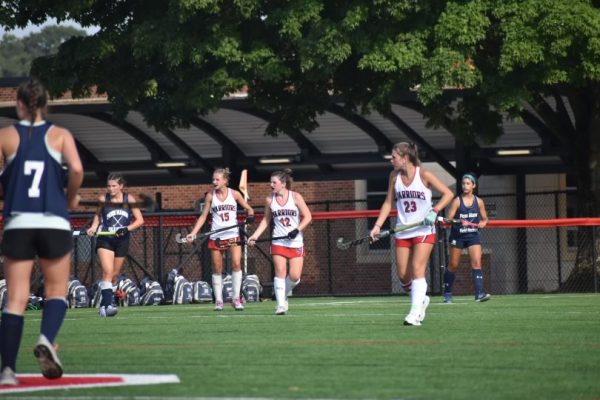 "As a team, we really focus on team bonding…we have a little bit of a younger team, so just doing things like making sure to connect in school and do things outside of school, we really know each other which makes communication less awkward on the field," Schabdach said, "…if you are able to know where your teammate's position is and where they are going, it makes your job easier to do…I really think this team can go as far as we let ourselves go."
With the loss of six seniors from last year's varsity team, the Warriors have adapted to not only a new season, but a new team. One of these players is freshman varsity player Joey Wilt, who sees the importance of high school field hockey for players.
"I feel really good about the team this year," Wilt said. "I think we are doing really well so far…It is something where we can all just come together and play a sport that we all just love," It is just a good experience."
This year's top scorers are currently senior Lily Wojick with 26 goals and sophomore Cara Zapach with 10 goals.