Fairy lights wrap around the railings and vines hang from the ceiling while a magical garden walkway guides you onto the enchanted dance floor.
Student Council plans to welcome the student body to a 'Garden of Lights', the long awaited homecoming dance that is one of the many highlights of a student's school year on October 14.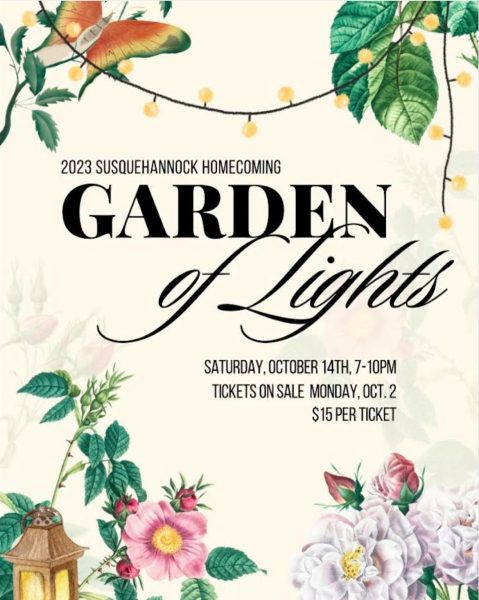 Construction has played a big role in the overall planning process of this year's homecoming. Andy Warren, one of the two student-council advisers, believes that the addition of the commons area and updated cafeteria is going to provide a positive effect on this year's dance.
"[The construction] has given us an opportunity to reimagine what is possible for a homecoming dance and event for our students," Warren said. "…hosting the dance itself inside the commons and the surrounding areas will give us a new opportunity for students to enjoy the event, whereas previously we had to hold the dance in a variety of different settings, ranging from on the football field to inside the gym to previous years even having it inside the cafeteria space."
With the decision of the theme being Garden of Lights, Student Council President Devin Gilbert hopes that the students are intrigued by how the place will be decorated.
"I hope that students are excited to go to homecoming and are excited about the theme," Gilbert said. "I think the decorations for this year will really fit the theme and will really help get people excited a little more."
As this year's theme is more nature-oriented, it is different from the previous years. Last year's was more retro with blinding neon lights, and the year before that had a red-carpet rolled out for Hollywood.
As a way to get prepared for the homecoming festivities to come, spirit days have been announced in order to get the student population pumped up for the festivities to come.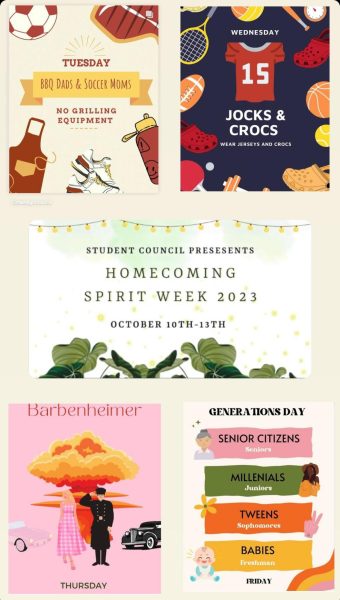 This year's spirit days are 'Barbeque Dad v.s. Soccer Mom' on Tuesday (October 10), 'Jocks and Crocs' on Wednesday (October 11), 'Barbenheimer' on Thursday (October 12), and 'Generations Day' (October 13) finishing up the homecoming week.
-'Barbeque Dad v.s. Soccer Mom' is focused on the average dad cooking up a storm and a middle-aged mom who spends a majority of her time taking her kids to their different sporting events.
-'Jocks and Crocs' is as it seems. A student is to wear any sports jersey and pair it with their crocs or any other pair of shoes of their choice.
-Pink and black will flood the halls on Thursday as students have the ability to dress as two of the most well-known movies of the 2023 season, "Barbie" and "Oppenheimer."
-To finish out the homecoming school week, each individual grade will dress as different generations in order to get prepared for the Pep Rally. Freshman will dress up as babies, sophomores as tweens, juniors as millennials, and seniors as senior citizens.
Warren's goal for the spirit days is to get more people to participate in not one, but all four of the various spirit days.
"Overall, I am very excited that we have selected a variety of spirit day themes for each of the four days next week," Warren said. "Hopefully, students will embrace at least some of the themes and participate…[in] as many as all four days. "
As an avid lover of both the "Barbie" movie and "Oppenheimer," Warren is most excited for one day in particular.
"Of the themes, my favorite is definitely Barbenheimer," Warren said. "It is the perfect combination of "kenergy" and nuclear energy."
Although the dance and spirit days are favored by the students tremendously, another key aspect of homecoming is the pep-rally, hosted on the Friday before the dance.
What a student can expect at a pep-rally is lots of school spirit, along with a variety of activities to keep the crowd engaged.
"I am looking forward to a positive and enthusiastic environment at the pep rally," Warren said. "It provides the student body with a great opportunity to be introduced to the homecoming court ,which they will have the opportunity to vote for as well as celebrate the culmination of homecoming week festivities."
Different performances are organized, such as the cheerleaders and the dance team, to get the crowd more engaged with the activities to come.
Additionally, the homecoming court will be introduced to the student-body, and voting for the Homecoming Queen will take place soon after that.
One new aspect of this year's Pep-Rally is the teacher component in the homecoming court game.
"This year we are adding in a teacher component, and we will have a teacher team facing off in our homecoming court game, which is something we have not done these past couple of years," Gilbert said.
Much like last year with one of the homecoming games being human foosball, the homecoming court will go against their escorts, but now they will also compete against the teachers. Musical chairs have also been added as one of the games the court is going to be playing.
As the date for homecoming is quickly approaching, students need to be aware of the new system for purchasing tickets.
"This year ticket sales are online which is something that we are doing new through myschoolbucks," Gilbert said. "There will not be any physical tickets which is something we have not done before, but it helps make things go more smoothly for the student council. ..you can still pay cash and buy tickets at the door."
Students who have transferred money to buy their parking passes or to put in their lunch account are familiar with this, but others might not be as familiar if they are too young to have a parking pass or bring their own lunch.
Myschoolbucks is an online payment system that allows parents/guardians to transfer money into your child's account. This will make it more efficient for student council members to see who bought tickets and organize them in a more orderly way.
If you have any questions regarding ticket-sales or homecoming, please contact Alison Altemose or Andy Warren at [email protected] and/or [email protected].