Students Learn the Importance of Finance
Finance teacher Kellin McCullough hosted financial literacy seminars on April 23 and April 26.
These seminars aim to educate students about the importance of different aspects of finance.
McCullough thinks it is important for students to gain some kind of understanding of finance before graduation.
"For a majority of students at the high school level, there financial education comes from their parents," said McCullough. "Only a small majority actually discuss this with their parents. Which means if you don't do it in school, a lot of kids are not getting it. So these seminars are a way to educate students on finance who might not be getting it any other way."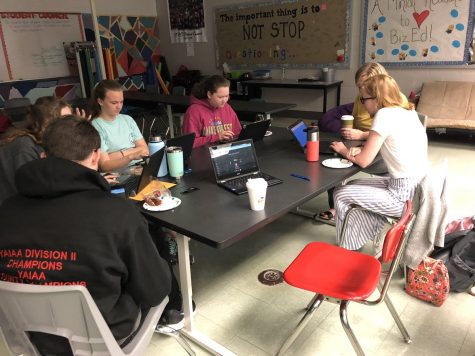 Senior Megan Watkins went to the first seminar and says it is great information for the future.
"I think it's important for students to be financially literate and understand what they are getting into," said Watkins. "I feel like people get into scenarios where they don't really know what they are doing and rack up intense debt."
Another purpose of the seminar is getting people to think about what their future financial goals are.
Watkins wants to live stress free and not have to worry about student loans.
"My financial goal is to be able to live comfortably and being able to payback student loans as fast as possible coming from college," said Watkins.
Senior Julia Kelbaugh also attended the first seminar.
Kelbaugh believes the seminar gave her some perspective of how difficult managing money can be for some people.
"I learned a lot about how difficult it is to live off minimum wage," said Kelbaugh. "We played a game where we had to live off minimum wage, and it was really eye-opening how difficult that was to do."
The first seminar was about managing income, while the upcoming one is about credit cards and student loans.
Kelbaugh thinks that students should attend regardless of what they know about finance.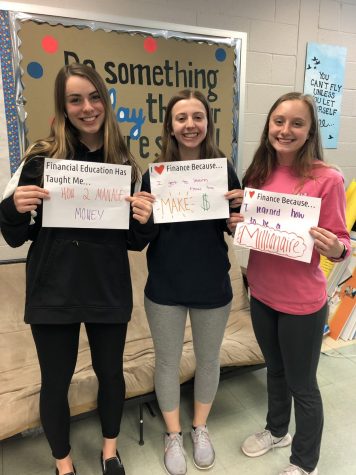 "I feel like there is a lot of uncertainty going into the world as a college student after high school, not really knowing how to do your finances, not really knowing how to pay your taxes," said Kelbaugh. "Going to this really gives you the idea of what you may or may not know about finances."
For those unable to make it to the seminar, McCullough still has some general tip students can get started with today.
"There are so many things students can do today to get started in finance," said McCullough. "If they do not already have a bank account, that would be number one. It is amazing how many students do not already have a checking or savings account. The simplest thing  you can do today is keep a spending log where you track how much money you spend. It can be an eyeopener for how much you really spend and what you can do to save money."
Students can go to the last seminar on Friday, April 26 at 7 a.m. in McCullough's room.
About the Writer
Trevor Leuba, News Editor
Senior Trevor Leuba is the News editor for the Courier. This is his first year on the staff, and he participates in swimming, Link Crew, and Tech Shed....