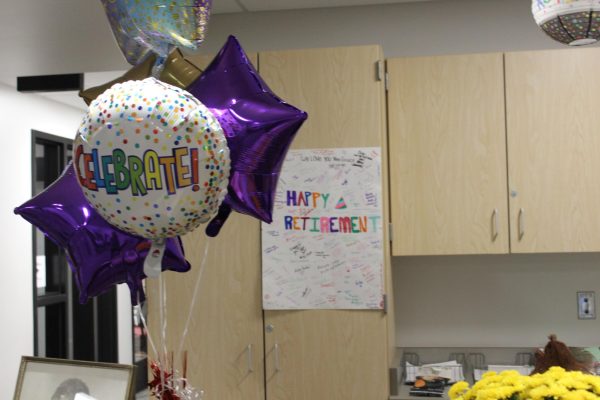 In a split second of support, counselor Courtney Koons rushes over behind the desk of long-time coworker and friend, Grace Myers, affectionately known to students and staff members as Miss Grace.
With small tears fighting their way out, and a smile still painted contently on her face, Miss Grace merrily accepts the offer of an "8-second hug" and nods at the assurance of a fresh one every day for the rest of the week.
Within the air and aura of the counseling office, the love of Miss Grace is spread like a silky layer of mist on early mornings, hanging on peoples' every words and actions. Suggestions of tissues, small smiles and optimistic laughter each take their turn in the space and are articulated over the span of about ten minutes, but have been building for years.
For almost 25 years, Miss Grace has worked within both the new and old walls of the Susquehannock High School, forming innumerable connections with students, parents, coworkers and the community as a whole. On Friday, Oct. 27, Miss Grace will leave its walls for good, but her legacy and impact will remain with the students and Susquehannock as a whole.
Having been a student at Susquehannock High School and a graduate who trekked across its stage in 1984, to now an impactful school counseling office administrative assistant, Myers has had countless experiences with students and has influenced many as they grew up.
"It's the kids that made me stay," Miss Grace said. "Knowing that over the years I have made a difference in people's lives."
For many students, Miss Grace has contributed support throughout their entire time in high school. Senior Keira Woods, who baked a cake for Miss Grace's birthday every year, shares the effect that Miss Grace has had on her high school experience.
"Her support and kindness are something that has had a great impact on me," Woods said. "She always understands what I need and how I need it. She has done so much for me not just as a student, but as a person too. She has taught me that even though life might not be fair, there are always going to be people around you who are going to help you thrive in life."
Administrative assistant and 8-year coworker Samantha Whittie, who will be stepping into Miss Grace's role, understands the significance of Miss Grace's relations to the community and values the effects she has had on the school.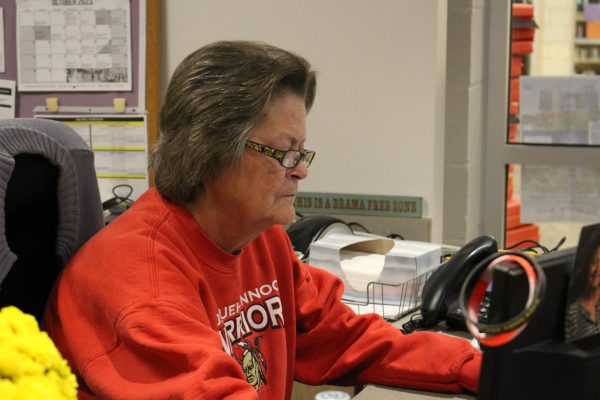 "She is involved with the community, obviously, she has worked here, lived here, grew up here, she knows the parents of the students now…It's her home, you hear her say it all the time…," Whittie said."…She is always going to do whatever she needs to do for anyone and that is a good quality to have."
Miss Grace shares the faith she has in her friend and coworker and hopes to see her fully grow into the position and preserve her relationships with the students of the school.
"It is very hard to leave something that you love…Sam is going to do great," Miss Grace said. "…I just want her to keep the bond going and be real."
Whittie also appreciates the character of Miss Grace and the attributes that made her such a priceless addition to the staff and the student body as a whole.
"She has done a lot with the students, teachers, staff, parents, just being there for them," Whittie said. "…Just her being here, and her presence…she has this aura around her, just something about her, she's inviting."
Miss Grace believes that her authenticity and genuineness have been an enormous factor in her ability to bond with students and that her ability to be unapologetically herself offered a safe haven for students who were struggling.
"I'm real, I am who I am, I say it how it is," Miss Grace said. "It makes them feel like they have a safe place to go to, somewhere where they can come to even if they just, like Mrs. Koons said, need an 8-second hug."
Woods shares a similar sentiment, recognizing how Miss Grace's authenticity entitled her to grow close to the student body and connect with people through the slightest things, creating lasting connections and impacts through small interactions.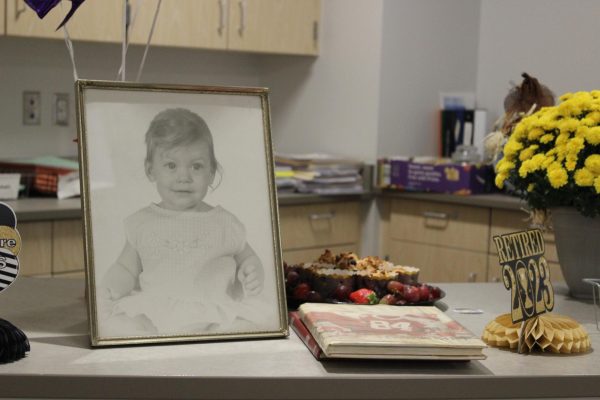 "For one thing, she loves to laugh and joke around with everyone. She is able to connect with so many students because she is not afraid of being honest or talk about herself," Woods said. "One small thing that two people have in common is such a great start to a lasting relationship."
While Woods and many other students will miss the presence of Miss Grace within the school, she believes that Miss Grace is most certainly meriting retirement after such hard work with the student body.
"I am going to miss her heart," Woods said. "She has been nothing but a bright light for me and is truly one of the most giving people I have ever met. If I am ever in need of anything, she will drop what she is doing in order to help me…Of course, I am sad to hear about her retirement, but after everything she has done for me and hundreds of other students, she definitely deserves her retirement."
While Miss Grace herself may leave the halls of Susquehannock High School, it is clear that her lasting ties with the community and students will continue to do good in the lives of others and that her profound connections with students, staff and parents alike will be something that will act as her enduring legacy.
"She will leave a legacy of greatness, determination, and honesty," Woods said.
Miss Grace recognizes the struggle that comes with change but knows that her memories with students will stick with them throughout their lives and presents all of Susky's students with a wish and one last piece of advice.
"Live your life… it's hard to know that Friday when I walk out the door that's it, and it's a lot of changes…. it's all a lot of changes, but I am going to be fine," Miss Grace said. "I just hope that the students remember me by Miss Grace."