Perdue Revamps School Lunches in America
Changes to the foods that American students are eating at school are being made in Washington with the Trump Administration.
A recent statement from the Agriculture Secretary, Sonny Perdue, states that previous guidelines made by the Obama administration that mandated schools can serve only non-fat milk and whole wheat bread are being repealed.
Michelle Obama's efforts during the Obama administration to create a healthy and more balanced lunch for students also involved the lowering of sodium levels and more fruits and vegetables added to the menu.
School districts will now have the ability to exempt themselves out of some of these regulations.
Many school administrators understand and agree with the reasoning behind the change.
The rules set out by the Obama administration were projected to cost $3.2 billion over five years, and with widespread budget cuts across American schools, the option to be exempt from the rules is desirable to school administrations.
On Friday, Michelle Obama said in an interview at the annual summit of the Partnership for a Healthier America, "You have to stop and think, 'Why don't you want our kids to have good food at school? What is wrong with you, and why is that a partisan issue?"
Obama said that "food isn't political," and asked the question, "Why would you sit idly and be okay with that?"
Perdue backed up his reasoning in the statement he made on May 1.
"We all know that meals can't be nutritious if they aren't consumed, if they're put in the trash. We've got to balance the nutritional aspect, the sodium content, the whole grain content, with the palatability," said Perdue. "…This is not reducing the nutritional standards whatsoever."
The exemptions will go into effect for the 2017-2018 school year.
About the Writer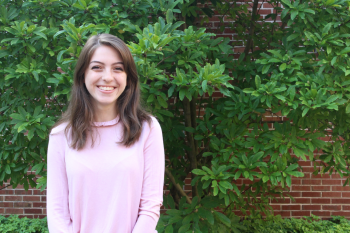 Elizabeth Johns, Assistant Editor-in-Chief
Senior Elizabeth Johns is the assistant editor-in-chief of the Courier Staff this year. She is a  journalist interested in the arts and entertainment...