Susky Juniors Plan for Field Trip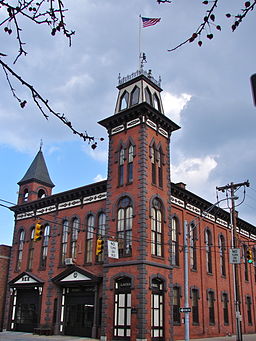 Hang on for a minute...we're trying to find some more stories you might like.
It isn't often that high school students are treated to an all-day field trip, so many juniors who  are enrolled in A.P. Human Geography were excited when it was revealed that they would be traveling to several landmarks in and around York City on the April 26.
Because the curriculum of AP Human Geography focuses on how human activity can shape and affect the landscape, a day spent comparing the differences between rural areas and York City is a valuable hands-on experience.
Juniors will begin the trip outside of York City with an up close and personal tour of a local farm.
AP Human Geography teacher Matthew Amberman knows that students will be able to see a real-world application of what they learned in the classroom.
"We're going to start off the trip by going to Perrydell Dairy in Leader Heights so that kids can see agriculture first and foremost, because we just finished up the agriculture unit. I want them to see a family-run business that is competing against dairy factory farms, so that they can actually see that, live and in person," said Amberman.
After the tour of Perrydell Farms, the class will take a walking tour of York City.
"We'll see how York developed, and it will go with what we did in our urbanization and urban geography unit in April. They'll actually see York and actually see the example and be the example versus just looking at it on a page or a picture," said Amberman.
Another activity is a planned stop at the Agricultural and Industrial Museum, which will give students a perspective of York City's role as an automotive hotspot in the early 1900s economy.
In contrast to the technical activities early in the day, the centerpiece of the field trip is a visit to York's Central Market where students can enjoy different types of cuisine and cultural nuances unique to York County.
Although the event is more than a month away, student Kelsey McCullough is already excited to take a break from the classroom.
"I'm super excited to go to York with all of the AP Human Geo students," said McCullough."As a class, I'm sure that seeing the different activities that Mr. Amberman planned will put a face to a lot of what we learned in class."
More details will be announced as the scheduled date approaches.