Dan Pergrin: An Ambitious Artist
By Grace Burns, Assistant Editor-in-Chief
November 23, 2014
Looking to make his personal artistic mark on the world, junior Dan Pergrin has been named November's featured artist of the month.
Although interested in art for a long time, Pergrin first began to funnel much of his attention into the subject when he entered high school.  Starting out primarily as a photographer, Pergrin soon began to widen his area of study by incorporating graphic and fine arts into his work.  Multiple people that Pergrin has come into contact with, especially during the summer, have influenced his work.  Along with influences from people, much of his current work is strongly impacted by skateboarding and snowboarding.  The display he put together for the showcase is a blend of photography and fine art mixed with printmaking and watercolor work.  Some of his photos are from a couple years ago while many of his printmaking pieces are more recent.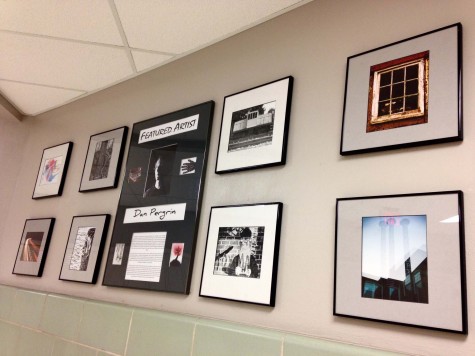 Pergrin is ecstatic to be named this month's featured artist and be recognized by various people.
"It's cool to be able to share my artwork with people that normally wouldn't see it like teachers, other students and staff members," said Pergrin.
Whether it be as a career or a hobby, Pergrin definitely sees art in his future. Expanding his range of media and mediums is important to Pergrin as he progresses as an artist.
His zealous attitude toward every project he tackles is admirable and has been acknowledged by several students and staff members.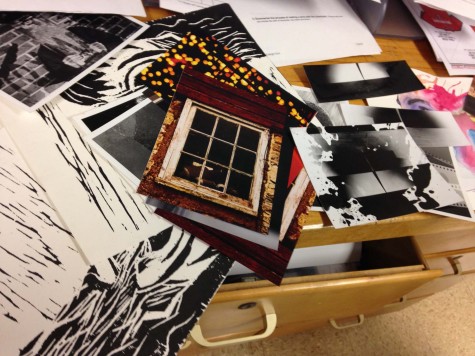 Art teacher Wade Bowers has taught Pergrin in several classes including photography and electronic arts.  He has enjoyed watching him grow as an artist throughout the years.
"Dan has always been a student who wanted to succeed and perform his best," said Bowers.
In the future, Bowers pictures Pergrin taking more classes and perhaps making a career out of his artwork.
Not only has Bowers expressed praise for Pergrin, but junior Maura Hain, Pergrin's friend, is also extremely impressed by his various pieces.
"I think that he is an absolutely amazing artist, and I did not know that he had that much talent," said Hain.  "He is definitely more talented than most people I know, and he has a very distinct style that I like."
  The sense of freedom achieved by snapping a photo or picking up a brush is perhaps the most enjoyable part of being an artist for Pergrin.  With an undeniable passion for various types of art, Pergrin will continue to learn and eventually master numerous skills and make his point of view known.