Angela Edel walks through the doors that mark the entrance of Susquehannock High School.
Everything has changed; everything is so new, and, yet, the aura of Susky is retained through even the newly renovated commons area. A profound sense of nostalgia rushes through her as she discovers the old brick bleeding through the pristine new walls. She is back where it all began, in her old high school. However, this time it is not just another day of learning. This time, she will be the one teaching and the one to make a difference in the lives of students.
Edel has found herself teaching business and finance at SHS, but she has not exactly been letting the days go by. In her first year back, Edel has big plans to impact the lives of her students.
"This year, I hope to connect with my students by creating relationships with them to encourage, motivate, guide and inspire them to be the best versions of themselves," Edel said. "I hope to instill in themselves that they are made for more. Throughout my business office [classroom], I hope that students feel valued, learn a sense of business experience and create a positive mindset where with thoughts and actions they take will help them rise to achieve greatness that is awaiting them."
In order to give students a more well-rounded view of both finance and business, Edel plans to connect with her students in a meaningful way by getting them involved in her classes. She also plans a revival of the student store.
"My goal is to have a student-led Susky store where students are able to collaboratively work together to choose and create products for our student body and local community," Edel said.
One of these students is junior Mason McSherry, who is excited by the prospect of a student store revival.
"That would be very beneficial towards the student body," McSherry said." I was an avid consumer at the snack shack. As a consumer, I would definitely be down."
The store, in addition to providing snacks throughout the day, would be a great opportunity for students to learn more about the business world. Getting students more involved in the classroom will also help them make important connections that could help later in life.
"Bringing a business organization … to our school would benefit our students to help them build business, leadership and networking skills," Edel said. "Organizations … open up a wide range of possibilities for students to excel, build their resume but have true hands-on experience to be with business-minded students across the region."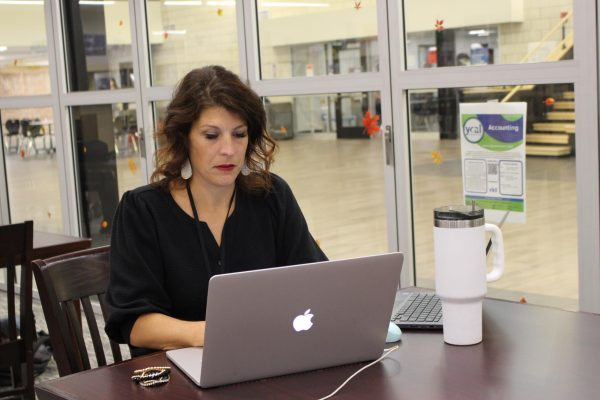 Much like the organizations which provide a guiding light to students, teachers need assistance when first starting out on the job. Edel cites business teacher Jocelyn Ruppert as one of her main inspirations and colleagues while finding solid ground to stand on.
"I've been giving her as much resources as I could, so she's not building things from scratch- not recreating the wheel," Ruppert said. "You need somebody in your back pocket to cheer you on, especially with a job like this where, you know, emotions are high, and you're dealing with lots of different personalities. So, I think just being there, even if we have moments where we want to scream, we can embrace that, accept that, and be kind of an outlet for one another."
Additionally, Ruppert comments on the importance of mentorship to the success of a new teacher.
"When you come in as a new teacher, you have a very limited toolbox; you might have a screwdriver, a hammer, and that's it," Ruppert said. "But when you have somebody, a mentor, all of a sudden they are lending you tools. It really is a collaborative thing, if you don't have that, it is very, very easy to just stop doing, and say, 'teaching isn't for me,'… It's hard in a good way, though. When you are changing lives, and you're being present every day, it should be hard."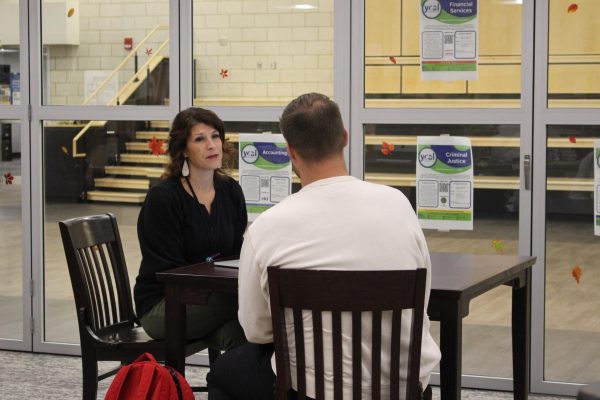 Edel, much like Ruppert and many other teachers, faces difficulty in teaching. The difficulty of teaching, although, is a means justifiable by an end: a student who understands they were made for greatness.
"I feel like the challenge is wearing many hats; I feel like I am not just a teacher but a mentor, an adviser, a coach, a helper, a motivator, a positive role model," Edel said. "The list of characteristics and different types of 'hats' that we wear can be exhausting and draining. We currently are living in a culture where I feel so many need to feel loved and supported. They need a cheerleader in their corner, someone to give them boundaries, structure and tough love."
Much like Ruppert and Edel have helped each other become accustomed to their new positions, students can lay the foundation of positivity for both themselves and others.
"I became a teacher because I was inspired by my business teacher, Mrs. Ebersbach," Edel said. "She showed me kindness and grace and then sprinkled in the business aspect while challenging me to be better and reach new heights. I want to make a positive change in the lives of my students. Let them know that someone cares, and they were made for greatness."