Surrounded by posters about the Constitution and student projects of the Progressive Era, new history teacher Audra Cabrera has a smile on her face, eagerly waiting for students to come into her room.
Cabrera has always been in the area teaching at Shrewsbury Elementary, as she taught 4th and 5th grade there. However, after 21 years of hard work, she made the executive decision to change paths and take on the challenges of high school.
Cabrera is now a teacher of Holocaust and Genocide Studies, American History through Media and United States History One.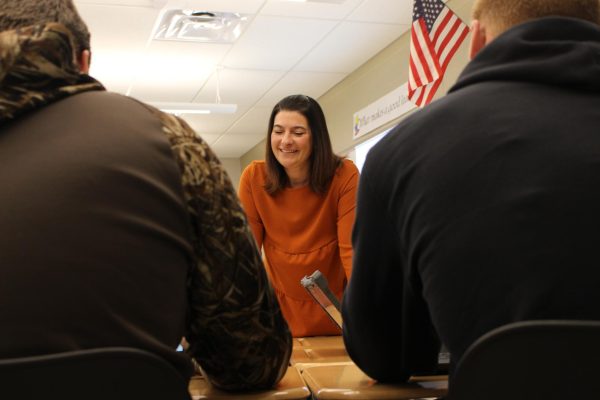 Cabrera allowed her past interests to inspire her in a new career path.
"I was always interested in social studies, especially local history, and I decided I wanted to make a change in my career," Cabrera said. "I love teaching, but I wanted to do something a little different, so I decided to get certified in social studies and that's what I did."
Cabrera and the social studies department have been collaborating a lot these past couple months to introduce new projects into the curriculum. Students just finished their Progressive Era Picnic project, and their next project is going to be their 1950s museum.
Social Studies teacher Abigail Shenot is excited for these projects and hopes students are having fun while completing them.
¨Mrs. Cabrera, Ms. Schoemaker, and I are collaborating a lot on our U.S. one classes because that's what we all teach," Shenot said. "We just wrapped up a project on the Progressive Era Picnic, and our next big project is probably going to be our 1950s museum which I think everybody remembers, which will probably be our next really, really big project."
Social studies teacher Heather Schoemaker has been enjoying the time she has had with Cabrera thus far.
" We have always collaborated, but we collaborate even more as a department," Schoemaker said. "Her friendly personality and her willingness to continue to better herself shows that even though you have experience as a teacher you can always better yourself, and she's willing to take on the challenge. I think by challenging ourselves that ultimately shows you she is a good educator."
There are changes when entering a new stage of teaching, some that are difficult and others that she has been enjoying.
" I think the major differences are the fact that I'm still the guide of the classroom, but I feel at this level I can give you more freedom," Cabrera said. "I know you will be able to do what I'm expecting you to do – the reading and the writing, for the most part. Everybody has different needs, so I guess just getting used to the age difference, the expectations and the responsibilities. I'm learning new things everyday on how to be an effective teacher while I'm here at the high school, but I am enjoying it."
Cabrera hasn't always known that teaching was her passion; however, she found her passion for teaching after a ¨lightbulb¨ moment in college.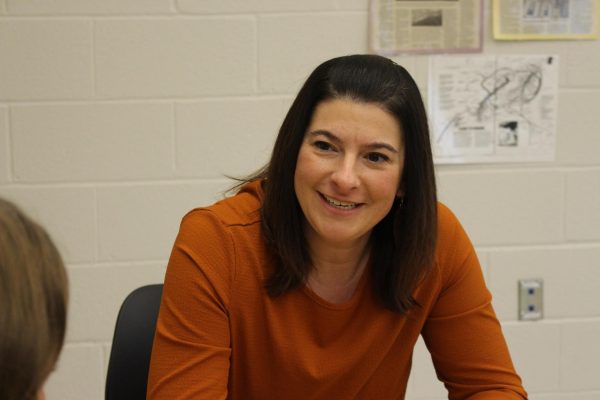 " I can't say that in high school I knew that I wanted to be a teacher- not quite yet, but soon after entering college it struck me that it's something I would be interested in doing, and ever since there it has progressed," Cabrera said.
Alongside experience, the department has been bettering itself as a whole, learning different knowledge of others.
" She brings a lot of experience not only being a teacher here for the last 21 years but having a background of different aspects of education helps her add new knowledge to our department, and by having that, it helps us better ourselves in the department," Schoemaker said.
Outside of being a teacher, Cabrera enjoys many hobbies, as well as spending time with her family.
"I like to cook, read [ look at] antiques, paint, garden, and work on the house," Cabrera said. " I [also] have an 8-year-old daughter and a 4-year-old son, [along with] a husband. We live in York in the York Suburban School district."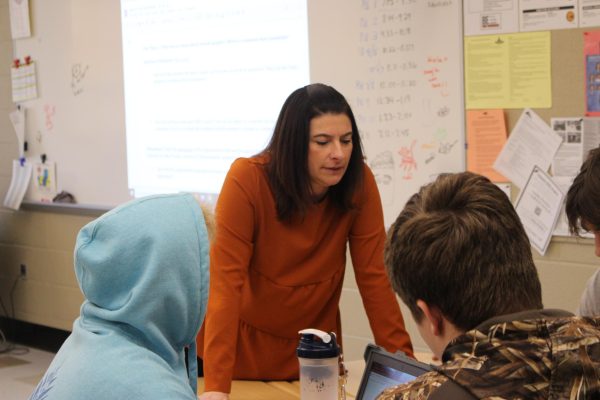 Cabrera hopes to improve the curriculum by making it more interesting and exciting for students. Her goals are to sprinkle in local history, bring in compelling guest speakers, but most importantly to inspire students to love history as it is the foundation for our world, according to Cabrera.