Susky Classes to Achieve Post-Graduation Satisfaction
It's no secret that acquiring a college degree can be extremely costly. It is also not a secret that the stress of having a plan for college grows with every "what do you want to study in college" question. Before classes are tied to a big price tag, look into the many classes offered here at Susky.
On a poll posted on shscourier.com, when students were prompted with the question which college major discipline would you most want to pursue, business ranked first, STEM ranked second and health and medicine ranked third. 
The business and financial job industry has been a highly desired field of study for students. In fact, in the last 11 years, bachelor's degrees in business bestowed by secondary institutions ranked the highest out of six fields. 19 percent of bachelor's degrees were in business in the year 2019-2020.  
As the aspiration for a degree in business grows, so does the job market. In the next decade, occupations concentrated in business and finance are projected to have 7 percent growth, while pre-existing jobs are expected to have job growth. 
To test the waters in a career in business for no cost at all, take any of the many classes offered at Susky. Susky offers a variety of business driven classes: marketing, entrepreneurship, finance, accounting, business foundations, business law and diversified occupations. 
Marketing, think tank, and diversified occupations teacher Kellin McCullough describes what growth she expects to see in the business industry. 
"I think all business and industry is going to continue to evolve…there is no denying there will be a huge push to artificial intelligence and AI," McCullough  said. "I think there will be a continued need in using data and analytics… supply chain is going to [have] huge growth as we continue to push e-commerce, distribution and logistics."
All of these classes aim to provide students with the tools to become well-rounded, successful, creative and self-motivated individuals, attributes that are highly valued in business. 
A major in STEM has a multitude of pathways. No matter if your desired area of study is in science, technology, engineering or mathematics, there are a ton of options for classes.
While STEM careers already supply over 10 million people with jobs in the U.S., it is projected to have an 11 percent growth by 2031.
If you love science, consider testing that love by taking AP biology, AP chemistry, AP environmental science or AP physics. 
Chemistry teacher Jennie Bonitz explains the importance of taking science classes in high school. 
"It's important to take science classes in high school if you're planning to major in a STEM field because you want to make sure that you actually like it, and taking those classes will help prepare you for the classes you will need to take in college," Bonitz said.
One of the best parts of having the opportunity of taking AP classes is that if AP testing scores are high enough, colleges may award students with college credit for those classes. 
A numerous number of technology and engineering classes are available to add while scheduling here: engineering essentials, principles of engineering, metal technology, computer programing, AP computer science, energy, power, & transportation technology, robotics, wood technology and foundations of construction. 
While having math credits is required to graduate, students can utilize their mathematics at a higher academic level by taking: algebra lll, AP calculus AB, AP calculus BC, pre-calculus with trigonometry and honors pre-calculus with trigonometry. 
Healthcare workers will always be needed as long as the human race is around. In fact, it is projected that 2 million new jobs in health care will be created by 2031. 
Majoring in health and medicine can be an uphill battle but a rewarding one. To test the waters in a major such as this, consider adding any of the following classes to your schedule: AP biology, AP chemistry, anatomy & physiology, latin, EMT or exercise science.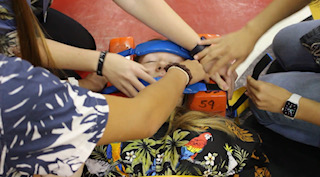 Junior Kate Kalmanowicz shares the classes she took to prepare her to major in pharmacy. 
"My freshman year, I took physics, and sophomore year, I took chemistry," Kalmanowicz. "As a junior, I am currently taking calculus and AP bio, and I also plan on taking AP chemistry my senior year to help prepare me for pharmacy school." 
Deciding on a college major and ultimately what to do for the rest of your life can be very stressful for students. To help narrow the decision down, picking classes that utilize skills used in that career can be extremely helpful.  
Leave a Comment
About the Contributor
Katie Ball
Junior Katie Ball is a reporter and social media editor for the Susquehannock Courier. For the past three years, she has been involved in the swim and...