Porter Dives into States
Stepping up to the end of the diving board, heels just slightly hanging off the edge, senior McKenna Porter is ready to flip off the board headfirst into the water below. 
Porter was compelled to join the diving team her freshman year, and she has been setting records ever since. Before she even stepped foot on the board, she made history by being the first woman to join the Susky diving team. 
As a first-time diver, Porter was faced with many challenges that she quickly overcame. 
"When I first started diving, I was not used to going in the water head first at all because I was a gymnast- you always land on your feet," Porter said. "I actually didn't know how to dive, so it was pretty scary."
Porter's athletic career started years before her freshman year when she competed in gymnastics for five years before high school. There she gained the flexibility, endurance and ability to flip in the air.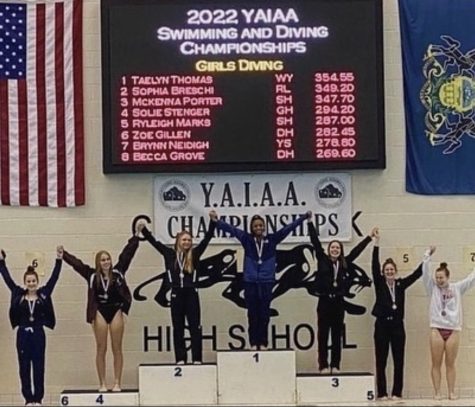 Senior diver Ryleigh Marks has been diving alongside Porter for three years.
"Mckenna is someone who never gives up; she always gives it 110 percent," Marks said. "Mckenna always made me feel like I could do anything I put my mind to. She will always support you, and that's what I love about her."
Porter has flipped her way onto the leaderboard, has set her first pool record her freshman year and has been improving ever since. 
"Being the first female diver at our school, I was able to set both the 6 dive and 11 dive record- I broke those both this year," Porter said. "At Districts, sophomore year, I placed first, and I then also qualified for States and got fifth. Last year, I believe I got second at Districts and seventh at States. This year, I just got second at districts and qualified for States."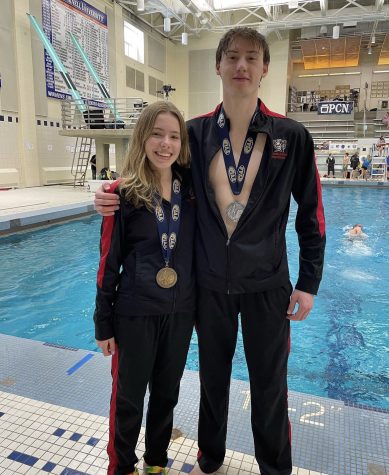 Swim Coach Brian Wingert is very supportive of his swimmers' success in all aspects of their lives. 
"McKenna Porter has a natural gift for diving…," Wingert said. "She goes to diving practice at Dover, but she also took the extra time when they had diving practice out at Mercersburg Academy. She went a little bit above and beyond to make sure she does what it takes to succeed. McKenna Porter is a teammate, and …all the teammates [agree] she's the teamiest teammate."
Marks reminisces on her time spent diving alongside Porter. 
"My favorite memory with her has to be [during] our sophomore year when we were both at our district meet, and we both had great meets and the energy in the place was just amazing," Marks said. "The way we have always supported each other is something we both will always cherish."
Porter's diving career is surpassing her high school career.
"I am diving at Rochester Institute of Technology next year [and] it is D3," Porter said. "I was not expecting to dive in college, but I was looking at that school, and I really liked [it]. I was talking to the diving coach, and he's a really cool guy, so I decided to go for it." 
Porter qualified for States which will take place on March 15-18. 
Leave a Comment
About the Contributor
Katie Ball
Junior Katie Ball is a reporter and social media editor for the Susquehannock Courier. For the past three years, she has been involved in the swim and...