Basketball Coach Steps Down
Varsity boys basketball coach Andy Shelow announced to the team on May 16 that he was stepping down as the head coach of the program.
This came after a successful season in 2021-22 resulting in a record of 17-9, a 5th place finish in the District III tournament and a PIAA state tournament berth. It was the first time the boys team made the state playoffs since 2004. 
Many players and families were very upset and sad to see him go. 
Freshman Brooks McKnight is a player on the team and valued the time he had with Shelow in his first year at the high school playing level.
"I think it's a huge change for the program, he was such a good coach for a number of years," McKnight said. 
Shelow was a coach in the program for the past 12 years, the last 5 as the head coach. 
He ended his head coaching stint with a 51-58 record. But they were 38-28 in the final three seasons. 
Shelow is extremely thankful for the opportunity to run the program.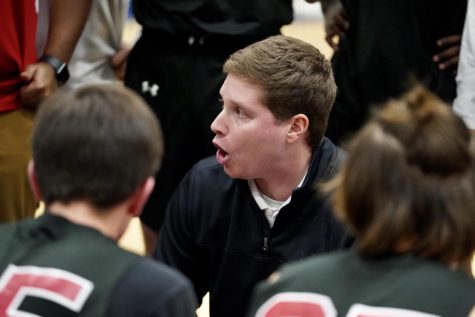 "This is truly a bittersweet moment for me," said Shelow. "It has been such an honor to be the head coach at Susquehannock for the past five years. There are so many great memories, many of them being the big moments, but it will be the FAMILY aspect and moments of our program that I will remember the most. These boys have changed the culture of Susquehannock Basketball, and I couldn't be more proud of them. The future remains very bright, and I am certain that the guys coming up will continue the momentum that has begun here at Susquehannock."
As for the players, many of them will miss Shelow greatly.
"Our basketball program will miss him for sure," McKnight said.
Leave a Comment