Martha Sandusky Retires After 23 Years
High school family and consumer science teacher Martha Sandusky is retiring at the end of the school year after 23 memorable years of teaching at SHS.
Since 1999, Sandusky has been a part of the SHS community, teaching at East Pennsboro for 10 additional years prior to the start of her employment at the high school.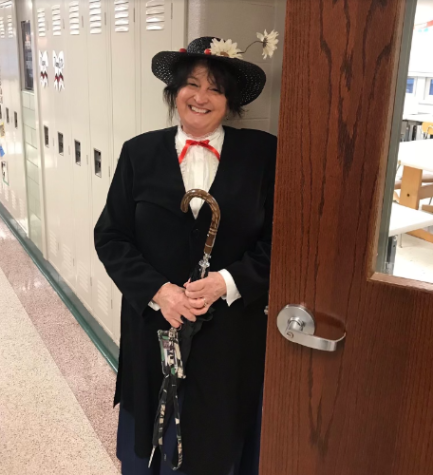 With 33 years of teaching overall, Sandusky has countless memories with her students that she will cherish beyond her career, especially when students took their ambitions beyond the classroom.
"I have so many memories that I cannot pick one," Sandusky said. "I loved when students came to me with stories of what they used from class at home. Some made food, sewed projects or even bought a sewing machine. Some saw children from the preschool when they were outside of school who talked to them and made them feel special."
With her final days of teaching coming to an end, Sandusky admits that there are many aspects of her career that she will miss.
"My favorite part of teaching is the hands-on nature of my subject," Sandusky said. "All my classes were teaching life skills and were ultimately learning by doing, which I think is the best way to learn. I have never regretted my choice of being an FCS teacher. It has been so rewarding. I will miss the interactions with the high school students and the little children in child care. Every day was different and full of surprises."
Senior Katlyn Krebs has been a student in Sandusky's classes for 2 years, taking Child Development in her junior year and both Child Care I and II in her senior year.
"I think my favorite memory with Mrs. Sandusky was just talking to her whenever we had free time," Krebs said. "She was always so uplifting, and it was great to just take a break and talk to her."
Krebs always admired Sandusky's teaching style and speaks about how she stood out as a teacher in the high school.
"I think the way she was able to adapt to COVID without having a preschool anymore and having to come up with different ideas to teach child care was something I really looked up to about her," Krebs said. "It's amazing how she was able to do the Bitmoji classrooms and come up with ways for us to do lesson plans with each other. I also appreciated how much she fought to have us go down to the elementary school in order for us to work with kids."
Krebs is thankful for the knowledge she gained in Sandusky's class.
"[I] just want to thank her so much for how she's been able to overcome and give us a good chance to have Child Care with all the hardships with COVID," Krebs said. "Her classes gave me continued confidence that I want to pursue being an elementary education teacher."
Following her retirement, Sandusky hopes to use her time to the fullest with many activities that teaching did not always allow time for.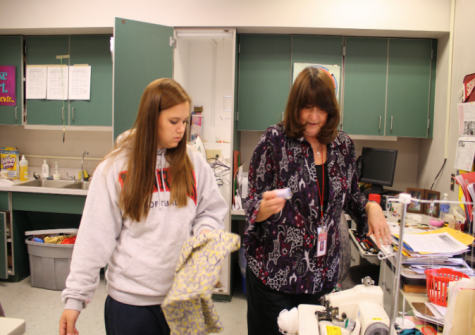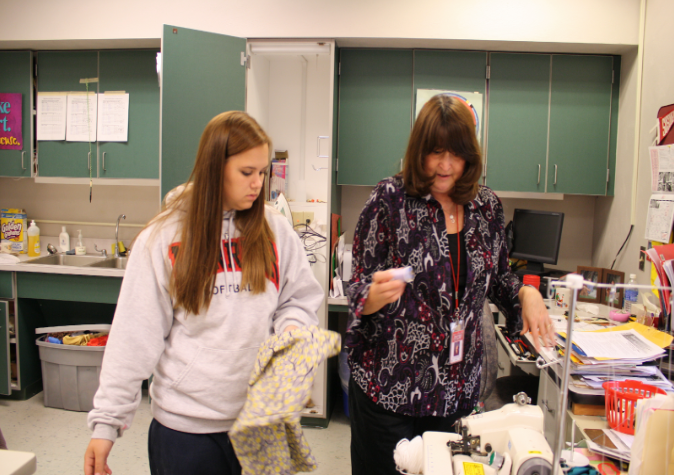 "I am looking forward to new experiences and memories and I plan to keep busy by using my talents to do the things I always wanted to do but didn't have the time," Sandusky said. "Hopefully, I will have more time to read some books, paint, cook, sew, do all kinds of crafts and organize. I will definitely be taking care of my two new grandchildren and my mother."
For her fellow teachers, Sandusky leaves advice for their upcoming years in the field and a word of thanks to everyone who has helped her become her best self.
"I sincerely would like to thank all the teachers for their help and guidance during my long career; and especially am thankful for my former department of fellow retirees, Mrs. Cassie Timcheck and Mrs. Mary Tombesi," Sandusky said. "My advice for teachers is to regularly journal your stories and heartfelt student interactions so when you retire it'll be a lot easier to reflect and remember!"
As for the students she has taught, Sandusky hopes that 
she has brought meaning to their high school careers and can't wait to see their successes in the future.
"
I hope that every student that I taught knows that I really cared about them as a student and as a person. I hope that someday in the future when you are employed in the adult world and are asked to solve a work problem, that I might have helped a little in developing your skills. My hope for you is to surround yourself with happy people, focus on your own strengths, be kind and make the world a better place."
— Martha Sandusky
Leave a Comment
About the Contributor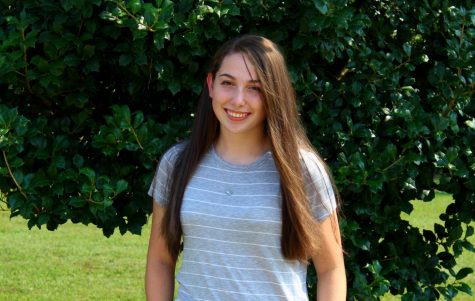 Alexa Viands, Editor-in-Chief
Senior Alexa Viands is the Editor-in-Chief for the Courier and is a third-year staff member. Lex is looking forward to writing many different styles of...