Students Help Students at the Tutoring Center
The tutoring center is now open and available for all students to meet in-person or virtually.
Each session is about 30 minutes, and all core subjects- including foreign languages- are offered.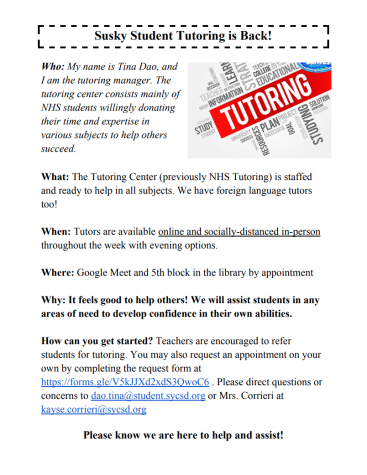 Due to COVID-19 restrictions, there have been many changes to the tutoring center.
Junior Tina Dao, the tutoring manager, realizes there are precautions that need to be taken for in-person tutoring, but it has allowed for more virtual opportunities. 
"COVID-19 has affected the way tutoring works by the extra precautions we have to take to ensure everyone is safe," said Dao. "This obviously means that there is a six foot rule for in-person tutoring, but thankfully the library is already set up to allow for the necessary precautions. This also means that more sessions will take place virtually than in-person to accommodate for the virtual students and tutors."
The new block schedule has been a benefit for both students and tutors because it allows them to work at their own pace. 
"Every tutor has their own set of availability hours, ranging from as early as 10 a.m. to 7 p.m.," said Dao. "We also offer fifth block walk-in tutoring in the library on the in-person school days." 
Junior Grace Knepper, a tutor for both the tutoring and writing center, provided multiple easy ways for students to sign up for tutoring.
"Students can sign up for a tutoring session by going to the school library website and filling out a request form found on the 2020 tutoring flyer under schoolwide tools," said Knepper.
Students were also sent an email with a link to a request form, or they can contact Dao at [email protected] or Kayse Corrieri at [email protected] to schedule an appointment.
Kayse Corrieri, the librarian and teacher in charge of the tutoring center, feels that it is important now more than ever for students to realize if and when they are struggling with their classes.
"With social distancing and hybrid schedules, it's so important for students to be honest with themselves and advocate for themselves," said Corrieri. "If students need help, they may be the only ones who know it."
About the Writer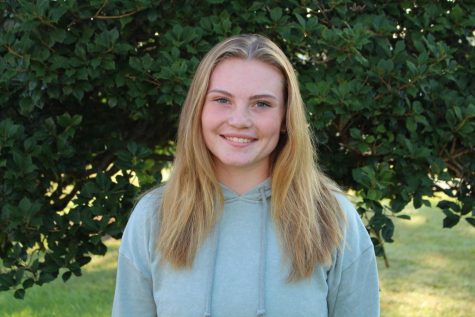 KC O'Neill, Photography & Social Media Editor
Sophomore KC O'Neill is a returning reporter and the new photography editor for the Courier. KC is excited to work with the new staff members and editing...