Your COVID-19 Binge List
COVID-19 has created a large amount of stay at home time for everyone. This has created a perfect excuse for anyone and everyone to take the time to sit down and binge a series or two. From something that will make you laugh to a show that will make you have to cover your face in fear, here is a list of some binge worthy shows that everyone should watch. 
Comedy
"Friends"– So no one told you life was gonna be this way, this classic show is one that can be watched over and over again from any point and still make anyone smile. Although this classic was taken off of Netflix, HBO Max is your next bet to stream. This 90s sitcom follows the lives of six friends and their adventures through their apartments in New York City. With 10 seasons, there is plenty to go around, each character has wit and life and sure to never disappoint.

"Friends" premiered in 1994. Image Courtesy of: @insidefriends via Twitter

"Parks and Recreations"– This sitcom starring SNL legend Amy Poehler was Emmy nominated for a reason. In this comedy, an employee with a rural Parks and Recreation department is full of questionable and hilarious ideas but constantly hurt by bureaucracy. This show is known for its excellent character development and how each season is not like the other. Stream it on Netflix and Hulu.
"The Office"– Based off of the UK original, this comedy is set in a paper company in Scranton,PA. With a style completely original, the characters have an ability to truly connect with the viewers, by actually looking straight at them breaking the fourth wall. This is the stereotypical office setting with a cast that has brought smiles to many faces before. This includes but is not limited to John Krasinski, Steve Carrell and Jenna Fischer. "The Office" can also be streamed on Netflix. 
Sci-Fi
"Stranger Things"–  Are you ready for the upside down? With now famous young actors such as Millie Bobby Brown, Finn Wolfhard and Noah Schnapp, this sci-fi thriller is sure to impress anyone. "Stranger Things" follows

a group of kids from a small town in Indiana during the 1980s as they discover another world/ completely different from their own. With three seasons and a fourth one on the way, now is the perfect time to get into this Netflix original. 

"Stranger Things," released the second season on Oct. 27, 1029. Image curtsy of @Stangerthingstv via Instagram.

"The Walking Dead"– Two words, zombie apocalypse. With 10 seasons to its name and an entire comic book franchise before it, "The Walking Dead" follows a group of survivors who travel in search of safety and security. It also has four spin off series including "Fear Of The Walking Dead" and "World Beyond". Now since the series has ended it has found itself a home on Netflix for anyone and everyone to stream. 
"Lost"– A mystery sci-fi, "Lost" follows the survivors of an airplane crash that left them stranded on a mysterious island. Every survivor has a secret but the island itself has so much more. A security system and underground bunkers show there is much more to the island than they thought. From 2004 to 2010 "Lost" created six seasons of mystery and adventure.  
Adventure
"Game of Thrones"– The adventurous drama that has created a swarm in social media the past few years came to an end in 2019 with a questionable finale but that doesn't mean that it didn't leave a mark on the entertainment industry. With 8 seasons, "Game Of Thrones" brings you into a world of dragons, war, deceit and powerful royal families. Its cinematic effects seem to be nearly unmatched in terms of television shows and even some movies. 
"The Umbrella Academy"– This Netflix original only has one season now, but that doesn't mean it's not worth the time to binge and take in the weirdness. Seven kids are adopted by a billionaire who creates the Umbrella Academy and gets his "children" ready to save the world. But when they all begin to grow up they slowly break apart, going their own ways. But when their adopted father dies, it brings them together again to solve the mystery of his death.

"Umbrella Academy" announced yesterday of its second season thats soon to be released. Image Courtesy of: @UmbrellaAcad via Twitter
Horror
"American Horror Story"– Each season is not like the last, following a different terrifying story that will keep you gripping your seat the entire time. With nine seasons and more on the way, there are some imperfections but the camp horror type style has created a rather large fan base that remains loyal to the series and its cast. And not only does the show do a good job at creating a horrifying story, but also delivers important messages for its audience. 
"The Haunting of Hill House" – A Netflix original that left many of its viewers with some sleepless nights. The story follows siblings who, as children, grew up in one of the most famously haunted houses in the country. When a family member's death brings them back together as adults, they must face the ghosts of their past, some more friendly than others. A horror genre veteran, Mike Flanagan, created this spine tingling series.

Nell Crain, played by Victoria Pedretti, in "The Haunting of Hill House". Image Courtesy of: @SeriesTWBZ via Twitter

"Chilling Adventures of Sabrina"-A modern adaptation of "Sabrina the Teenage Witch", it is a coming-of-age story that shows the world of horror and occult. Sabrina, played by Kiernan Shipka, tries to figure out her life as a half-mortal half-witch lifestyle, all while standing up against the evils of her family. 
Drama
"Euphoria"– With lead actress Zendaya, "Euphoria" follows the story of the main character Rue with her struggles of teen drug addiction. "Euphoria" shows the true struggles of the American youth and their outlook on many topics like alcoholism, drug addiction, sex, rehab and family issues. The show causes controversy but in the best way possible, it's not traditional in any sense and the cinematic aspect is a beautiful one to watch with creative lighting and editing that brings the viewer that much closer to the characters. 
"Riverdale"– With some debate on the past two seasons, "Riverdale" is one that is not for everyone but is surely entertaining. Based off of the iconic Archie comics, "Riverdale" follows Archie, Jughead, Betty, Veronica and the rest of the gang as they solve mysteries around their town. There comes to question th

Rue, played by Zendaya in "Euphoria". Image Courtesy of: @poppolls via Twitter

e later season due to the writing and how unnatural it feels but the audience's connections to the characters keeps you gripped even when there are some questionable plot points. Stream it now on Netflix or find it on The CW.
View Comments (1)
About the Contributor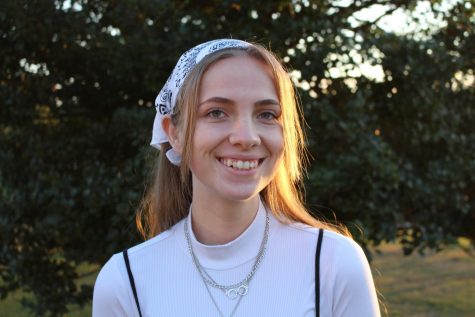 Emily Polanowski, Co-Editor-in-Chief
Senior Emily Polanowski is the C0-Editor In Chief for the Courier staff this year. She finds article writing and video to be her favorite mediums. Outside...