"Joker," the Clown that Brought Anything but Laughter
Warner Bros. sent out the clown, and the crowds did cheer thanks to "Joker" which hit theaters Oct. 4.
With a hypnotizing and almost terrifying portrayal of Arthur Fleck, later to be called Joker, Joaquin Phoenix owned the screen.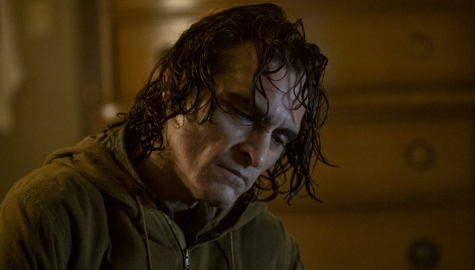 The film follows the story of Arthur and how his journey from an unnoticed performing clown to the creator of a revolution changed the city of Gotham forever.
Before its public release, "Joker" made its debut at the Venice Film Festival which then received 8 minutes of standing ovation.
In a Variety piece by Elsa Keslassy and Henry Chu, Venice artistic director Alberto Barbera said, " 'Joker' is headed straight to the Oscars." 
According to IMDb, the film's opening weekend in the US alone grossed $96,202,337 and $874,486,992 worldwide.
Compared to other DC comic based movies, this has been the highest grossing movie with one standalone lead character.
This film brought to light the reality of our society today with the idea of how so many minorities are ignored and forgotten.
Within the first few minutes, Arthur flips an advertisement on a bright yellow board with his clown makeup and costume on.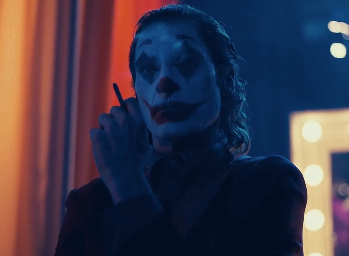 This leads to the sign being stolen by young kids who he then chases down to then suddenly be attacked by them. 
A very important shot is then made of a beaten and bruised Arthur.
His makeup is smudged and the bright yellow sign is broken to pieces around him.
He rolls to grab it but quits and just lays there; in the last few moments, you can see that the flower on his coat squirted water, just like the classic gag that clowns are known for. 
The symbolism within this one frame can reflect upon the entirety of the film.  
Arthur has given up; he feels pain and struggles to stand out and up for himself.
 He reaches for this bright future he thinks he has as a comedian, but in the end, he fails and just lays there, using his fake persona as a distraction from his pain, like he has his entire life. 
Within the blood, pain and insanity that it brings, this film also brings a foreign and haunting beauty through its relatability and color scheme, along with the acting from Phoenix. 
An intriguing part of this film was the way it was able to make the viewers root for the villain.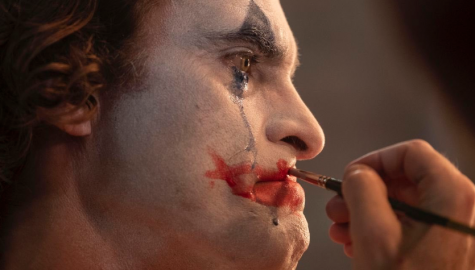 Arthur Fleck and his alter ego Joker killed multiple men, had a desire for revenge and the need for a voice which forced him to create a classic villain; however, his backstory created an emotion that implants itself in the minds of the audience.
An example of this is seen multiple times when Arthur is hurt or upset, and he just laughs.
Phoenix showed his ability to portray multiple emotions; viewers see a smile and hear a laugh, his eyes were clouded, and the tears slowly fell. 
A main point of his character can be seen in the most iconic moment in the film when he dances on the stairs. 
He has finally let go of all of his struggles and stresses. 
From the beginning, the movie hints at Arthur's love to dance and the way music affects him, and it not only mirrors in the acting but from its original score as well. 
The soundtrack, mostly created by Hildur Guðnadóttir, is in many ways compelling through its light and sharp sounds created from a cello that hauntingly plays slowly and almost too hard, symbolically like Arthur's growing nerves and tension that needs to be released. 
One last important factor of the film goes back to the basics in creating a thriller that is sure to impress the public.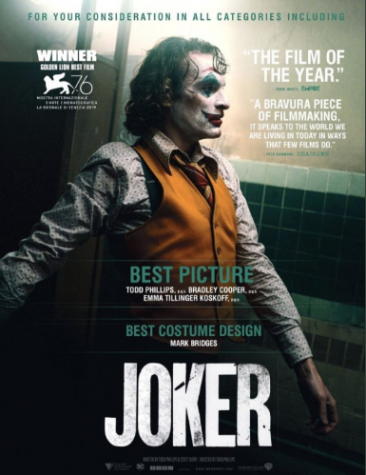 Many modern thrillers tend to lean on the classic scares that can now been seen as dull and expected, but one thing that "Joker" does different is when you expect the usual, it cuts off short.
This leads the viewers to continue to watch the compelling story. 
As controversial as the movie is due to its harsh and influential style, it can easily be seen as a psychological masterpiece that is sure to confuse and compel anyone who watches it. 
View Comments (2)
About the Contributor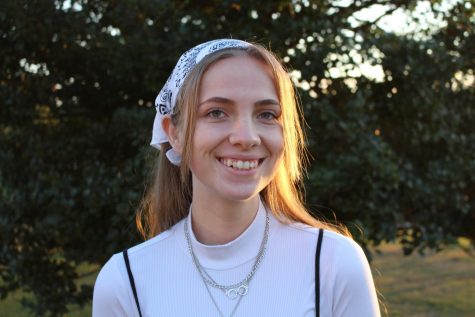 Emily Polanowski, Co-Editor-in-Chief
Senior Emily Polanowski is the C0-Editor In Chief for the Courier staff this year. She finds article writing and video to be her favorite mediums. Outside...