Kim, White, & Nagasu: How They are Heating Up the Olympics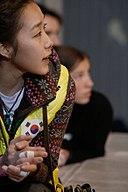 Chloe Kim is an American snowboarder that is of Korean descent. Kim has always had a passion for snowboarding since she was young.  Kim was too young to compete in her first Olympics back at the 2014 Sochi Winter Olympics.  Therefore, Kim decided she would compete in the Winter X Games. In 2014 Kim won silver in the superpipe at the Winter X Games. The following year Kim returned to the X Games once more and won gold in the superpipe event. In 2016, Kim became the first person under 16 to win two gold medals by winning back to back gold medals. In 2016, she became the first American woman to win a gold medal in snowboarding at the Winter Youth Olympic Games and earned the highest snowboarding score in Youth Olympic Games history at the time. Kim then decided it was time to compete with the best athletes in the world alongside the United States in the PyeongChang 2018 Olympic Winter Games. Kim shocked the whole world when she took home the gold in the Women's halfpipe finals. The world was shocked that such a young participant was able to take home the gold.
Mirai Nagasu is an American figure skater that is a three-time Four Continents medalist, the 2007 JGP Final champion, a two-time World Junior medalist, and a seven-time U.S. national medalist. Nagasu began skating at age 5. Nagasu has competed at many different events and tournaments all across the world. Nagasu has a list of championships and medals. Nagasu is known for her strong spinning on the ice. Nagasu made history in the PyeongChang 2018 Winter Games. She made history by completing a triple axel. Nagasu became the first American woman, and third woman overall, to land a triple axel at an Olympic Games.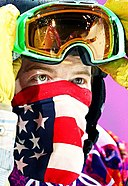 Shaun White is the face of snowboarding. White first started representing Team U.S.A. at the 2006 Winter Olympics in Turin, Italy.  has won 3 Olympic gold medals. White, at age 31, was the oldest competitor in the halfpipe event at the 2018 Pyeongchang Winter Olympics.  White made history by not only winning a gold medal, but by winning the United States 100th medal of all time.  With this win, White became the first ever snowboarder to become a three time olympic medalist in the halfpipe event.