Students Audition for World Class Marching Band
By Grace Gorham, Contributing Writer
December 14, 2016|105 Views
  The school marching band is very talented and accomplished, but some students wanted to take their learning experiences a little further.
  Freshman Josh Delozier and junior Lauren Hallameyer are the only two students from Susky that auditioned and made it into an elite world class marching band.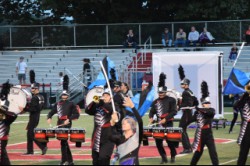 "I got into the Jersey Surf marching band which is a part of DCI. DCI stands for Drum Corps International. It's basically the NFL of marching bands," said Delozier.
  Hallameyer describes the audition process that they went through, along with about 50 other people.
  "In auditions, we were given flag work. We had to learn how to do and perform it to the best of our ability along with a dance routine to see our current abilities in both of these. It was hard for some people to learn, but with what the current color guard instructor has taught me previously, it was easy to pick up," said Hallameyer.
  Delozier and Hallameyer will start practicing in the spring for Jersey Surf.
  "I will be doing color guard. Basically, we start off with spring training which is about 20 days before tour starts. We will also move into our housing area. We have 10-12 hour days consisting of learning the show. Then, once tour starts, we head off and compete all over the country. From Massachusetts to Texas, so all over the country. We will sleep in gyms and compete against other DCI groups," said Delozier.
  Being accepted into Jersey Surf was a big accomplishment for Delozier.
  "I was proud of myself, because I have worked very hard to get to where I am," said Delozier.
  Hallameyer also feels excited about this new opportunity.
  "I feel very excited about getting in because I know this is something that will force me to work hard and perform everything to the best of my ability," said Hallameyer.
  Colorguard coach Chrissy Drouin has a mix of Delozier's and Hallameyer's emotions.
  "I feel very proud of Josh and Lauren for getting into Jersey Surf.  They made a big decision to try out for their color guard, which not a lot of kids decide to do. It was a new experience that challenged them in a different way than they are used to," said Drouin. "They are going to travel all around the country and perform in many different stadiums in front of thousands of people. This is a chance that only a certain amount of people get to experience. I am very proud and excited that they get to have this type of experience. I can't wait to see them perform this summer in the Jersey Surf."
  Delozier, Drouin and Hallameyer all believe that the experience will benefit them in different ways.
  Delozier believes that the experience will help his future performances.
   "It will give me more experience, which will help me perform better for the school marching band," said Delozier.
  Hallameyer thinks that it will impact her by preparing her more for college.
  "This will affect me in a positive way because it's going to help teach me to be responsible for myself because of how much we will be traveling. It will also prepare me for college because I will not be home all summer, but I'm definitely looking forward to it," said Hallameyer.
  Drouin believes that it will give them new tips and skills from other instructors.
  "They will benefit from this experience because they are getting the chance to meet new people from all over. They will have the chance to learn new techniques from other instructors that will help them to grow in their technique and performance qualities," said Drouin.
  Overall, the opportunity that Delozier and Hallameyer have gotten will benefit their futures and performances.
About the Writer
Grace Gorham, Contributing Writer
Senior Grace Gorham is a contributing writer for the Courier this year. Outside of school, she rides horses competitively. In her free time, she enjoys...