Students Create LGBT+ Alliance Club
Hang on for a minute...we're trying to find some more stories you might like.
Juniors Nell Pugliese, Virginia Shelley and G Bundy have worked to create Alliance, a club for LGBT+ students to come together, make friends and ask questions.
  LGBT+ is an acronym that stands for lesbian, gay, bisexual and transgender. The + represents countless other groups of sexual and gender minorities.
  Junior Nell Pugliese believes that this club is a place where every person will be accepted, no matter what.
  "It's a place where people of all genders and sexual orientations, along with allies, can gather and talk and just have a fun social experience together," said Pugliese. "If nothing else, it will give them a place to connect with others. I know there are people who…might not have friends who will accept them, parents who will accept them, so this is just a place where you can come and have unconditional acceptance."
  Junior Virginia Shelley wanted to help create the club so that LGBT+ students in our school would have a safe space to go to.
  "We started it as a safe space because I have a friend in Canada who has a GSA [Gay-Straight Alliance] at her school, and I really really wanted one," said Shelley. "I feel like there's so much other stuff for sports and theatre which I'm fine with, but it felt like we needed a GSA because I knew there were a bunch of LGBT kids here, and it would be useful. It's a safe space so if you're having trouble, you're not out to your friends, you're not out to your family and you need advice, you can come here because there are people who might have been through something similar. It's about educating."
  The club's first meeting was on Wednesday, November 16, and according to English teacher Erica Littleton, the advisor for the club, the group discussed what their vision was for the school year.
  "The first meeting was really kind of a layout of what they want to do. They…introduced themselves and talked, but also they wanted to talk about what their vision is," said Littleton. "It's for socialization as one thing, but they also have other ideas. Whether it's creating decorations to post in the halls to get the fact that there is a club out there, [or] ideas of things they want to be involved in, [like] the passing out of the safety pins, buttons or shirts, [they] just kind of starting to bounce ideas around and off each other."
  One of the first things the club has decided to do this year is to wear and pass out safety pins. According to Pugliese, people who wear safety pins are indicating that they are a safe person to be around, and they will welcome you no matter who you love, what you look like, or whatever your origins are.
  "The safety pin movement is when…you get a safety pin and you wear it on your clothing to indicate that you are a safe person to be around, so we passed out safety pins and we talked about maybe distributing them somehow to the rest of the student body," said Pugliese.
  The club also has plans to collaborate with Aevidum, and they are planning a spirit day for Aevidum's spirit week.
  For more information about the club and to stay up to date with meetings and other events, follow @SHS_Alliance on Twitter.

About the Writer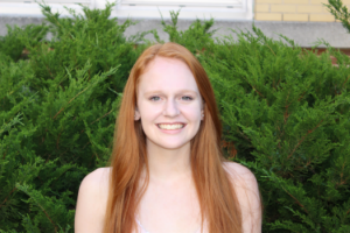 Emily Rivers, Assistant Editor-in-Chief
Senior Emily Rivers has been on the Courier staff for two years. As well as being involved in the school's news website, she is a member of the yearbook production staff, National Honor Society, orchestra and choir. Outside of school, she is an active member of her church, Shrewsbury Assembly of God. She hopes to major in public relations in college and become an event planner.