Rachael Scott Slams with Poetry
Slam poetry is a form of poetry that is performed aloud but in a theatrical way. Sophomore Rachael Scott was instantly drawn to slam poetry around August of this year because of how powerful it is.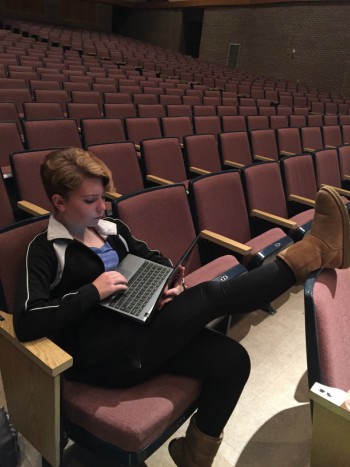 "When you start writing, it's kind of exposing a vulnerability, and it's really hard to be confident in it, especially when you're showing it to other people, and it's really personal. So you got to have at least one person give you a compliment, fake or not fake, but it'll really help you open up and be confident in your writing, and overall get better," said Scott.
English teacher and advisor for the creative writing club Timothy Groth thinks that Rachael Scott is a great performer and writer.
"I really like her poetry. I think the really neat thing about Rachael is that she focuses a lot on spoken word. She focuses a lot on, not only the words of her poetry, but also the presentation and theatrics of those words. She really wants to make it go beyond than just simply being a poem on a piece of paper. She wants to turn it into a performance. And so I think one of the best things she does is that she allows the reader to not only hear the poetry but also feel it as well," said Groth.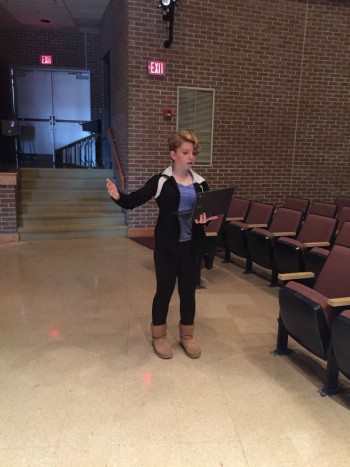 Recently, Scott performed at a poetry slam in Philadelphia, the Philly Poetry Slam. When asked what the most difficult part of her performance was, she said that if she messed up a line she had to come up with a new line as she went along and make sure it flowed with the poem well. Rachael's favorite poem of her own is one of her newer ones, "A Glass of Water at Ten A…M." Read the excerpt below:
"I've been looking at the same glass of water for three and a half hours  
I think I want to cry but i don't really remember how anymore  
My mother says I should just sleep it off
'I am your mother, I do not apologize'
There is only so much pressure a glass can take before it cracks…"
"…[It] is basically about, last weekend or the weekend before and I was sitting down at my kitchen table alone in my house because my parents were out of town and I had a glass of water because I was just chilling, you know, it's the morning. So, I was thinking of last year I went through a lot of stuff, I was doing really unhealthy things. I wasn't sleeping, I was forcing myself to stay awake for days on days on days. I look back, and even as a kid I used to do that to myself. And, I was wondering why I did that, so I kind of came up with this line like "If I had a therapist they'd probably say…" it was kind of my inner monologue, trying to say that maybe was the issue. It was basically just a reflection of past events," said Scott.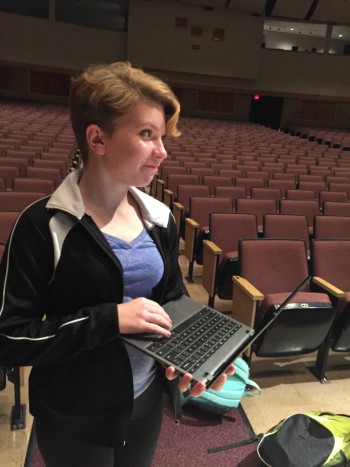 Junior and member of the creative writing club Lucy Curran is a fan of Scott's poetry.
"I really like how honest Rachael is in her poems. She says what she means and doesn't hold anything back," said Curran.