Aevidum Leaders Educate Themselves about Mental Illness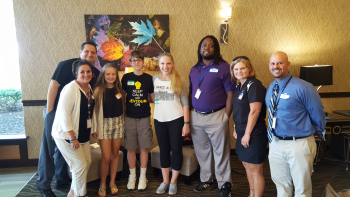 Aevidum leaders took things to the next level on Sept.7, breaking the silence surrounding mental health- and all the stereotypes associated with it.
Students had the chance to cooperate with other Aevidum clubs around the county during a conference for a new group called the York County Youth Mental Health Alliance – "The Silence Ends Here."
Throughout the event, students had a chance to come up with "The Silence Ends Here" as a part of their group name since they wanted to change it from the original name of York County Youth Mental Health Alliance, and also came up with the hashtag #iambecauseyouare that is associated with the group.
  Sophomores Thomas Hoopes and Jessica Fox and senior Logan Garvey accompanied the school's guidance counselors to the conference.
  Fox thought the day was very informative and beneficial to improving all Aevidum programs in the school district.
  "I think my favorite part of the conference was just getting to meet all the different students from the other schools," said Fox. "[Also] getting to talk with them and collaborate our ideas…to form plans."
  The day proved to be beneficial for many as the event went further into describing warning signs for different mental illnesses and talking about how schools need to take action in their Aevidum clubs to bring about awareness of these mental illnesses in the community.
Hoopes was motivated by all of the activities that went on throughout the day.
  "When I was going into the conference, I thought we were just going to be learning some useful information," said Hoopes.  "Then as the conference progressed I realized we can actually make a difference in this school with our Aevidum club."
  Besides collaborating with other schools, students had the chance to listen to speaker Alexa Moody from Please Live!, an organization dedicated to educating the community about mental illnesses like depression and suicide, empowering students to become more aware of symptoms in themselves and their peers and reducing the stigma that surrounds mental health.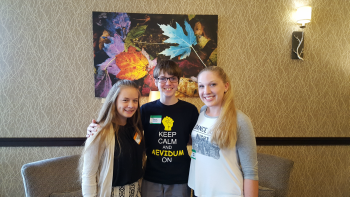 Photo by Jill Platts
  During her presentation, Moody described mental illness as if someone had a broken bone in their body that could be healed, but instead of it being a bone, it's a person's brain.
  Fox found Moody to be a very passionate speaker about the topic.
  "I thought she was a great speaker…she was very relatable because she is younger and didn't speak very proper…she spoke like how a typical student speaks. That made it more of a comfortable environment," said Fox. "She shared her story [during her presentation and] yes, it is a very sad story but then at the same time it's kind of empowering that she got through that and everything but she also shed light on a negative situation. Sort of like she brought a lighter feel to the room as she explained everything."
  Moody had depression at a young age and started showing signs of it at age nine. As her presentation advanced, Moody explained how she was diagnosed with depression but also how she overcame it.
  She also described the warning signs of mental illnesses such as schizophrenia and OCD, as well as explained what someone should do if they know someone who is suffering from an untreated mental illness.
  Coordinator of Social Services Jill Platts thought this was the most important part of Moody's presentation.
"I would say looking for those signs that the student is struggling [was what I learned from the presentation]. I think that really stood out to me, and I actually thought of family members too who struggle with depression and not just suicide," said Platts. "But just the warning signs of depression and anxiety in students and that the earlier we can address it the less students have to struggle…she talked about [how] from nine years old she was feeling that way and it wasn't until much much later that she was diagnosed. So she really struggled for all those years when maybe she didn't have to. [We need to start] focusing more on our elementary school students who are struggling and what can we do to get them help more quickly."
Some plans the group brainstormed included a staff charity basketball game, dodgeball for diversity and stall day.
  Interested in joining Aevidum at our school? Contact teacher Andy Warren or counselor Matthew Shervington for more details on how to join.
About the Contributor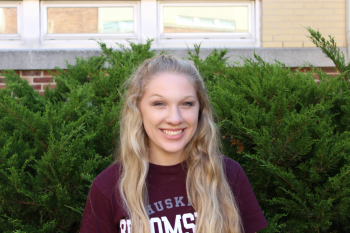 Logan Garvey, Editor-in-Chief
Senior Logan Garvey, a third-year Courier reporter, is editor-in-chief of the publication. At Susquehannock, Logan is also a part of the cast and crew...