Susquehannock "Kicks Cancer" Next Week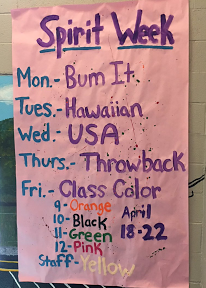 Hang on for a minute...we're trying to find some more stories you might like.
  Kick Cancer Week, one of the most charitable events of the school year, is next week. Student Council runs this week to fundraise for the American Cancer Society and will introduce some new activities, most notably the Color Run. Here's your guide to Kick Cancer Week.
Spirit Week:
  Like always, Kick Cancer Week will be accompanied by a spirit week to get students excited for the week's events and the Color Run. Monday's theme is "Bum It," Tuesday's is Hawaiian, Wednesday's is USA, Thursday's is Throwback and Friday's is Class Cancer Color.
  Bum It Day is everyone's chance to wear their most comfortable clothes to school, including sweatpants, sweatshirts, slippers and pajamas. Hawaiian Day means tropical shirts, sunglasses, shorts, and sunscreen – much like Tourist Day from the week of homecoming. Come to school wearing your most patriotic getup on USA Day. Throwback Thursday encourages students to dress like they're in another decade.
  To end the week and focus on the purpose of all the fundraising, each grade is encouraged to wear a different color on Friday. Freshmen wear orange for kidney cancer, sophomores wear black for melanoma, juniors wear green for lymphoma, seniors wear pink for breast cancer and staff wears yellow for bone cancer.
Contests:
  This year, contests during lunch will help with fundraising. All week, juniors and seniors will be able to guess how many pieces of candy are in a jar for a chance to win a V.I.P. parking pass. In another weeklong contest, all students can enter a raffle to win a position in Friday's outdoor obstacle course at the pep rally.
  On Tuesday, students can pay to pop a balloon with a prize hidden inside, including pieces of candy and gift cards to Mignano Brothers and Walmart. Staff members will line up in the cafeteria for pie-a-teacher day. Currently, Mr. Sorice, Mr. Truscott and Ms. Surguy are scheduled for fourth-period lunch, Mr. Hinton and Mr. Amberman for sixth and Ms. Cieslewicz and Ms. Schoemaker for eighth. Each of these events costs money, so make sure to bring spare change to participate.
Jail-A-Teacher:
  In an all-new event this year, students will have the opportunity to pay for their teachers to go to jail on Wednesday. At the beginning of each class, students can pay $1 per minute to keep their teacher in jail in the gym lobby. The minimum amount is $10 for ten minutes, but classes can pay up to $50 for all 50 minutes of class. During your teacher's absence, a substitute will watch over class until your paid time runs out.
  When students pay for a certain number of minutes, Officer Mendez will come to the teacher's room during your class, put them in handcuffs, and escort them into the lobby. Only five teachers at a time can be in jail, so pay in the lobby early to guarantee that your teacher will be one of them.
Pep Rally:
  Unlike previous years, Friday's pep rally will take place outside. For the main event, the winners of the drawing at lunch will compete in an inflatable obstacle course on the field. Students will also receive a complimentary Rita's ice that afternoon.
Color Run:
  The main event this year is the Color Run, a completely new venture for Susquehannock Student Council. Over 250 runners have already registered for either the competitive first race at 9:00 a.m. or the family fun run at 9:45 a.m. Runners all receive a race bag, and the winners will win prizes donated by local companies. The most important part, though, is the color. At four points throughout the course, staff will throw colored powder at runners to create a one-of-a-kind experience for each participant.