Susky Station Serves Students
  Half-asleep and attempting to push his way through the bustle and commotion of high school students, a teenage boy buys a coffee from the new Susky Station.      
  As of next school year, students will have the opportunity to buy foods and drinks throughout the day at the new school store, the Susky Station.
  The store will be located in the gym lobby and will offer items such as: coffee, tea, school spirit apparel and snacks.
  After asking his co-workers if they wanted a coffee in the morning before school, special education teacher Tom Laure thought of how students may also want to have a coffee before school.
  "[It was] just a cold day in the winter, and I was dying to have a coffee, so I called a couple other teachers and they also wanted one," said Laure. "That made me think of [creating the Susky Station] that would be a way to get my students involved."
  Laure plans on having his life skills class working the kiosk, so they are able to get experience in the work force before actually going to a place where they'll be paid.
  "The plan is that they'll be working as much as their abilities will allow them to, whether it's making or serving the coffees or running the cash register," said Laure.
  Besides having the life skills class working at the store, business teacher Kellin McCullough is going to have some of her entrepreneurship classes working behind the scenes to operate the store and help to develop the business plan.
  This will also give them a real-life opportunity to learn the trade.
  Junior Kristy Smith is considering both positives and negatives to the store.
  "I think it's cool…if people have money it'd be good but, it wouldn't be good for people who have trouble with money and them seeing other people buying it," said Smith. "Other than that, I think it'd be really cool because you can buy [apparel]."
  Luckily, Laure hopes the prices for the drinks will be more reasonable than Starbucks' prices.
  "I think it's going to be very affordable," said Laure. "We're not looking as much to make a profit as much as we are to kind of have an opportunity and learning experience for the kids."

  Most of the money earned will be reinvested back into the store with either expanding on the kiosk or different items that will be offered.
  Junior Destiny Rositzky thinks the Susky Station will be a great addition to the school.
"[It] sounds like a fantastic idea because I feel like people come in with Starbucks every morning," said Rositzky. "I feel like people will be very happy about the decision [of opening a school store]."
  Although there are still parts  in the works, many have high hopes about the store.
About the Contributor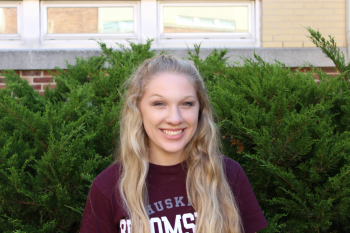 Logan Garvey, Editor-in-Chief
Senior Logan Garvey, a third-year Courier reporter, is editor-in-chief of the publication. At Susquehannock, Logan is also a part of the cast and crew...