Spanish Club Hosts a Celebration of Life
By Grace Burns, Assistant Editor-in-Chief
November 10, 2015
  With images of elaborate sugar skulls dancing in their heads, the Spanish club celebrated life on El Dia de los Muertos, or the Day of the Dead, at their most recent meeting on Thursday, November 5.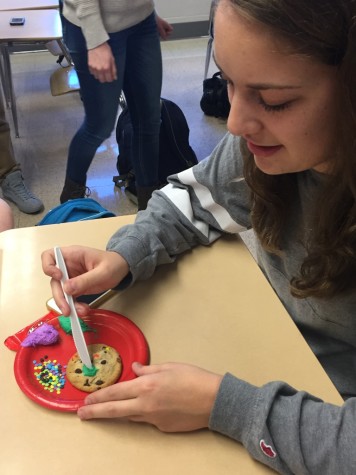 Members of the club engaged in various activities, such as decorating cookies to look like sugar skulls and watching a video that brought to life the practices of those who celebrate the day, to immerse themselves in the spirit of the holiday, which took place on November 1 and 2.  
The idea behind the Day of the Dead is the belief that the spirits of loved ones return to be a part of the festivities.  Many of the traditions of the Day of the Dead date back to around 3,000 years ago when the native people of Central Mexico began practicing the rituals.  
Ever since, people have continued to adorn their homes and the graves of the deceased to welcome the souls of their loved ones back.
  Understanding the significance of the holiday to the Spanish culture elevates members' learning experiences to a dimension beyond the classroom.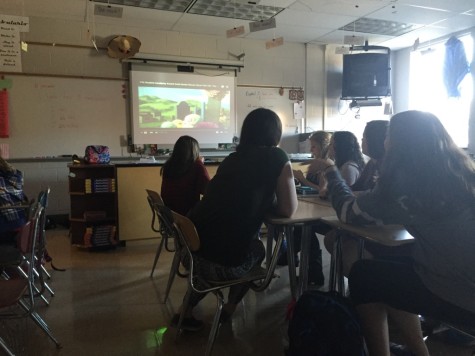 Spanish teacher and club advisor Nicholas Schiffgens has been overseeing the club for four years and commends how the club allows for an extension of the students' knowledge.
  "Typically, we do more interactive things," said Schiffgens. "There's that better connection with the things that we talk about in class."
  The club is almost exclusively student-run as the officers often take charge during meetings.  This year's Spanish club officers include: senior Ashley Cox as President, senior Megan Longerbeam as Vice-President, senior Elizabeth Vesper as Head of Public Relations and senior Karly Matthews as Secretary.
  As president, Cox hopes to establish a definite sense of unity within the club as the year progresses.
  "I love having everybody from all the different classes," said Cox. " … We can all learn from each other …  My goal is to have everybody bond together. "
  Many members are enthusiastic about being a part of it from the first few meetings.
  Freshman and first-year Spanish club member Gillian Smyth is looking forward to enhancing her understanding of the Spanish culture through club meetings.
  "[What I am most excited for is] learning more about personal experiences with people who know Spanish and who know culture behind it," said Smyth.
  A trip to a Mexican restaurant and a plethora of holiday celebrations are currently on the Spanish club's agenda for the school year and will give students ample opportunity to embrace the culture surrounding the language.