Walking through the halls, passing familiar classrooms and hearing high school chatter, memories flood her mind as she steps into her own classroom. While sitting at her desk and wondering how the year will play out, new teacher Emma Stiffler begins her day
A 2018 alumna, Stiffler returned to Susky to teach, so she could give back to the school that treated her so well.
"Some of my coworkers now were my teachers, so Mrs. Beste and Mrs. Wilt were the two teachers I was surrounded by every day [my senior year], which inspired me to become a teacher," Stiffler said.
The building has changed significantly from when Stiffler was here, undergoing renovations and staff changes. She felt overwhelmed at the beginning but is starting to realize that this is what she wanted to do all along.
"Well, being back in the building looks a lot different, obviously, because we have this whole new addition," Stiffler said. "It is weird walking through the halls that I used to walk as a student, but for the most part, it has been a pretty good experience."
Over many coffee and dinner dates with department head Jessica Beste, the dream to come back as a teacher formed and Stiffler found herself back within the walls of Susquehannock.
"I've been waiting to work with her for years," Beste said. "I was honored when she wanted to come back."
Beste is her teacher mentor and helps her get through the pressures of her first school year teaching. A teacher mentor guides a new teacher for the first few years in the new role. On a daily basis, Beste reviews and helps Stiffler prepare lessons, but also attends meetings with her. The main focus is to make sure she is supported throughout the year. The connection between Stiffler and Beste carried out from high school all the way to today.
"She recognized something in my commitment to her as a student, and that is the kind of educator she wanted to be, and I am very humbled by that and she praises me a lot, but just seeing her try makes me want to try harder," Beste said.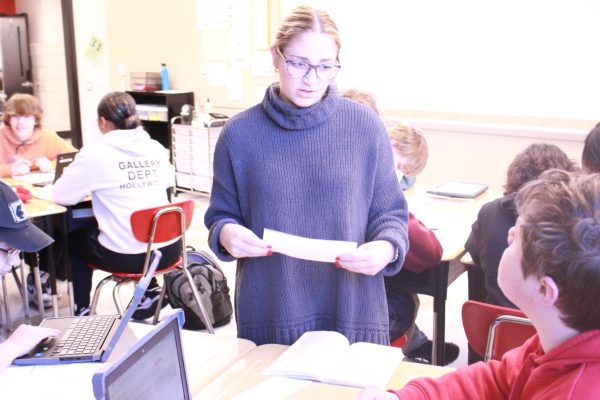 Along with her connections to the staff, Stiffler has family ties in the building as well, such as her sister, senior Rachel Stiffler.
"Having my sister here has been a nice part of my day, especially when we are getting along, and she is coming in my room to say hi," Stiffler said.
Beste understands how stressful a new teacher role is, as it creates a lot more pressures than one might expect. Stiffler is still learning how to connect with her students, along with coworkers, to accurately aid everyone's needs.
"I want her confidence to grow," Beste said. "Just like she wants her student's confidence to grow. Continuing to be open to suggestions, and not being afraid to ask for help."
Junior Emily Marcus has enjoyed her time with Stiffler as her English teacher so far. Marcus has enjoyed being engaged in class and learning more about stories than she thought she could.
"She makes assignments fun and gets everyone involved and makes her class feel like a community," Marcus said.
Along with having a welcoming classroom, Stiffer offers some words of wisdom, encouragement and a new perspective on teaching styles.
" I am right out of college, so things we are learning are a little bit different than what other teachers learned previously," Stiffler said.
She has already put this new perspective into action. Teachers learn different concepts depending on what school they go to and when they went there; the way kids learn and process information has changed over time.
"Her room feels like a safe space; she has a lot of fidgets to help her students focus," Marcus said. "She does a good job of getting to know me and checks in on everyone making sure they are doing okay."
Stiffler finds new ways to keep kids motivated and interested. For example, if the fidgets are helpful, she lets students use them; if they are a distraction, they are taken away to enforce responsibility.
With a new start, Stiffler is adjusting to the school and the challenges that face her every day. She continues to understand her students' feelings and builds similar connections to what she had when she was in the building.