Susky Students Swim back from States with Medals
Susquehannock has never won a gold medal for diving in the state competition- until now.
Three of Susky's students earned medals and broke records at the PIAA state championships on March 20.
Senior Max Pflieger earned a gold medal for the 1-meter dive at states. 
Like most, this has always been a goal of his. Such an accomplishment means a lot to a student. 
"It has been a goal of mine since my freshman year at states," Maxwell said."It is such an amazing achievement for me, especially since I was the first ever diver for Susquehannock."
Despite his amazing accomplishments with diving, Pflieger will not be attending college for diving but will be playing golf at Millersville University.
Another student to come back with a medal is junior Jacob Wade. 
Wade earned second place in the 100 freestyle and fourth place in the 50 freestyle.
Wade has been working for a medal, especially the gold, for a while.
The state competition is the best around in terms of skilled competition"The competition at the meet is very fast, and as it should be since it's the state championship," Wade said. "There are many fast freshmen and sophomores in the state, so I'll have the chance next year to race those guys again, and try to make a push for gold." 
Junior Mckenna Porter also earned a medal in this year's state competition, the only girl to make it to the top three at States.
She earned 7th place in  women's diving. 
This isn't Porter's first medal, though she has been in this same position before.
"I never really even thought about medaling–I was just happy to be there–but I was very excited to medal both my sophomore and junior year," Porter said.
The state competition pushed Porter. "The competition at states was much harder than any meet I've been to so far,"  Porter said. "Even at states last year, there were less than half the number of divers as this year, and they did not make cuts between the first round, semi finals, and finals like they did this year."
Porter will continue diving for her final year next year, while thinking about continuing into college.
Leave a Comment
About the Contributor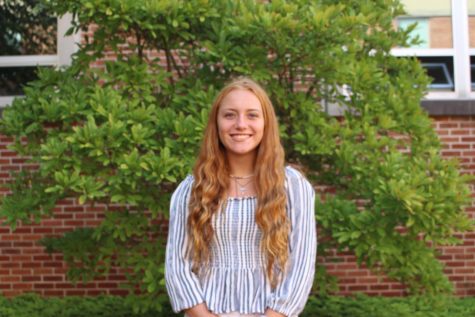 Maggie Grim, Broadcast Anchor & Reporter
Freshman Maggie Grim is a reporter for the Courier this year. Grim is a member of the varsity field hockey team. She is excited to contribute as a news...