Shallcross chalks up a favorite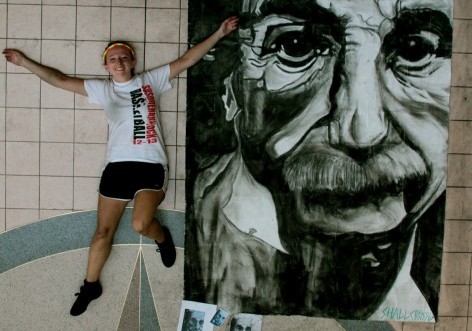 "Chalk it up" hosted by York Arts took place this past Saturday, April 13 at the York Galleria Mall, allowing senior Melissa Shallcross to take home the "People's Choice Award" for her chalk mural.
  The event started at 11:00 a.m., and the winners were announced at 5:00 p.m.. Anyone walking through the mall that day was a  potential voter for the "People's Choice Award."
 Students of York County had about five-and-a-half hours to sketch a large-scale chalk mural. Participating from Susquehannock was only Shallcross. She designed an image on a 5'x9' canvas.
  Art teacher Wesley Myers has had Shallcross as a student for many of his courses.
  "[Shallcross] is very talented in the arts," said Myers. "She has taken many of my classes and many of Mr. Bowers courses."
  In the end, Shallcross won the "People's Choice Award" for a black and white mural of Albert Einstein. She was the only team with one person working diligently, and she also was one of three 1st prize winners. She finished with 40 minutes left to work. Murals like this take more time to prepare then to actually create.
  "Creating this kind of mural is a large task," said Myers. "It takes a lot of preparation and thinking."
  To create a piece like this, the scaling must be correct as well as the practice to get it just right.
  As a result of all of the hard work, Shallcross earned a full scholarship for a Summer Studio Course at York's Institute.
  Shallcross wanted to create a portrait for her mural and is minoring in art when she enters college.
  "I've been interested in art since second grade," said Shallcross. "I grew up drawing and sketching, and it just developed throughout high school."
  Her mural will be displayed in the Mike Klinedinst Gallery at The Art Institute of York. The opening of her mural will be on Thursday, April 18 from 5:00-7:00 p.m.. Many will congratulate this accomplished student on her work at this free, and open to public, reception.