Dr. H.W. Brands Talks to A.P.U.S.H. Students
Dr. H.W. Brands, an author and historian from the University of Texas at Austin, talked to AP US History students on Wednesday, Oct. 28.
Since students are currently studying the Civil War, Andrew Warren, the APUSH teacher, invited Brands to talk to the students about his new book, "The Zealot and the Emancipator: John Brown, Abraham Lincoln, and the Struggle for American Freedom."
"Dr. Brands has written more than 20 books about topics in American history," said Warren. "His latest is about John Brown and Abraham Lincoln. These are two historical figures that we focus on when we study the causes of the Civil War."
Sophomore Haley Hebel enjoyed learning from Brands because he was able to connect topics she is learning about to issues around the world today.
 "I enjoyed hearing his perspective about both John Brown and Abraham Lincoln," said Hebel. "He brought up some interesting points such as comparing the Black Lives Matter movement to the abolitionist movement… [and] the point that most of us today are unfamiliar with the names of people organizing the protests. Many people had never heard of John Brown until he was captured and brought to trial."
Brands asked the students to imagine living in the 1850s and to think slavery is wrong in an era where it was widely common.
"What are you going to do about it?" said Brands. 
Some students were unsure of how to answer this question, but sophomore Sylvia Balog has an idea.
"I would become a public speaker," said Balog. "[I would] speak out to the town about the issues with slavery."
After Brands asked the students a couple more questions and explained his book, students were able to ask him some questions about John Brown, Abraham Lincoln, his book and his career. 
Sophomore Colin Baust-Crain, feels like he received great insight for his class from Brands. 
"Dr. Brands provided me another perspective on the topic of how to perceive the two men," said Baust-Crain. "Listening to another side of a story, or just an alternate view, can, and has, deepened my understanding of it. This is greatly beneficial towards my development in learning about American History."
Brands did not know that he was going to be a historian and author when he was younger, but he thinks his family played a big roll in his career path.
"My parents and grandparents were interested in history," said Brands. "They would take me and my siblings to historical sites in the area of Portland, Oregon where I grew up."
After college, he went into business, but then he began teaching high school math and history before becoming a professor.
"I liked it then and I like it now in large part because history is the story of how we, as humans, got to where we are today," said Brands. "I am as fascinated by that story now as I was then."
Brands has been writing about many topics for 35 years and is a two time Pulitzer Prize finalist. 
"I've written about various presidents, I've written about different wars, I've written about business, so I've covered a lot of ground," said Brands. 
Brands feels that it is important to learn about history, and with COVID restrictions, it will be easier for more opportunities like these to occur.
"We can't understand who we are unless we know where we come from, and nearly every issue that we deal with today has arisen in some form or another in the past," said Brands. "There were intelligent, sincere, honest people that lived before us that grappled with these questions, and we can learn a lot from where they succeeded and where they failed."
About the Writer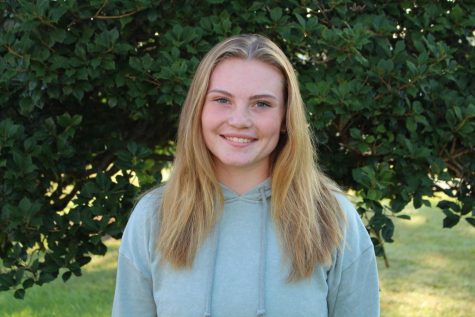 KC O'Neill, Photography & Social Media Editor
Sophomore KC O'Neill is a returning reporter and the new photography editor for the Courier. KC is excited to work with the new staff members and editing...