The Evolution of Music: 1940-50s Bring Something New
Many enjoy the sultry and soothing upbeat sound of the well known singer Michael Bublé, but many don't know where those, now familiar, sounds came from.
Music like Bublé's started during the 1940s and was built around jazz and big band styles that were popular.
Artists like Rosemary Clooney, Count Basie and Artie Shaw helped to define the decade with their unique styles and the way they entertained their audiences.
This was also the era of World War II, which made many types of musical acts strive to distract the world from the conflict.
Other artists such as Bing Crosby and the Andrews Sisters released songs referencing the military and war such as, "Boogie Woogie Bugle Boy" and "I'll Be Home for Christmas."
Many of music's top names and entertainers contributed to the war effort by offering performances for the military and their families through U.S.O. performances.
Some of the more famous performers included: Frank Sinatra, Judy Garland, Fred Astaire and Glenn Miller.
Big Band music, an offshoot of swing and traditional jazz, was at the height of its popularity during the early 1940s.
The genre focused on band leaders who often led four section musical ensembles with more than ten members.
The four sections consisted of saxophones, trumpets, trombones and rhythm (piano, bass, drums, and guitar).
After World War II however, many clubs opted in favor of hiring smaller bands due to the high cost of accommodating and compensating Big Bands which led to the disbanding of several of the decades most popular groups as they could no longer sustain a viable tour.
Big Bands could have male or female singers, and many of the top artists of the decade performed with big bands prior to embarking on successful solo careers.
The 1950's were a time of changes and the music of the decade both reflected the cultural changes that were happening while still holding on to the societal norms of the past.
Following the detrimental effects of World War II, the United States was about to embark on a musical journey that would change the face of music for decades to come.
Racial tensions were being strained with the beginning of the Civil Rights Movement and music reflected many of those tensions.
Rhythm & blues (R&B) and rock 'n' roll popularized "black" music and many African-American musicians rose to prominence and enjoyed success, but while some were able to reap the benefits of their work, many others were forgotten or denied access to audiences through segregation.
The 1950's saw the emergence and rise of rock 'n' roll and rockabilly.
Carl Perkins style is often referred to as "rockabilly" because it sounds like a combination of country and R&B music with rock influences.
Some other artists that were popular in the rockabilly genre were Buddy Holly, Jerry Lee Lewis and Gene Vincent.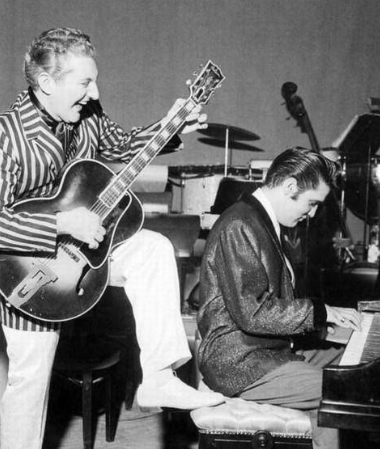 Perkins wrote and recorded his chart-topping hit "Blue Suede Shoes," in 1955 and the song was then covered by Elvis Presley and enjoyed even more success.
Elvis Presley is thought to be the "King of Rock 'n' Roll" by many and rose to fame in the most unique way.
One incident that best shows these unique qualities in Elvis was his controversial performance with hip gyrations on the Milton Berle Show in 1956; a performance that shocked the conservative ideals of adults during the time but drew in the youth as his performance on the Ed Sullivan Show only a few weeks later drew in nearly eighty-percent of the television viewing audience.
Johnny Cash and Hank Williams defined the country and western style of music during this decade.
Cash's music was more of a country sound with a rockabilly influence and his songs often centered around themes including life, sorrow and relationships.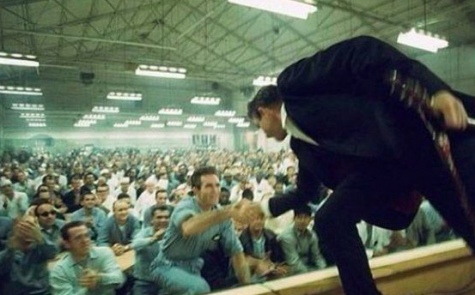 He also strived to integrate humor into his lyrics to make his collection well-rounded and respected by a variety of audiences.
Because of his compassion for his fellow human beings, he performed many times for inmates in several prisons across the country and his most famous performances resulted from Folsom Prison.
As you read through this section you may think that some artists listed in one genre should be featured in a different genre.
This is because that a majority of the popular and well-known artists were well versed in a number of genres and enjoyed great crossover success during this decade.
Nearly all music from the fifties featured influences from rock, R&B, country and pop.
It was also one of those perfect times in music history where a confluence of genres just happened to produce some of the most loved and well-known music of the past eighty years.