Cheerleading Launches into a New Season
As the rotation of active sports continues, cheerleading works in preparation for its basketball season.
The cheer team practices every day from 3:30 p.m. – 5:30 p.m., and on game days, they come in at 5:30 p.m. until the event is over.
Senior Mary Nolan has been on varsity cheer since she was a sophomore and has high hopes for her final year.
"It's our…last season, our senior season, and, like, since sophomore year we've been building up stunts that are just getting better and better," said Nolan. "I'm looking forward to hopefully making our stunts the best that they can be, and hopefully bonding with the team even more, building friendships for a lifetime."
Nolan recognizes that there is an added level of intensity in basketball cheer that is absent from the football season.
"Basketball season is a lot more intense [than football] because there is a lot more games," said Nolan. "Like this week we [had] one Tuesday and Thursday, and during football season it's just always a Friday game."
Senior Samantha Stanley anticipates a lot of work on varsity to draw in the audience.
"I expect a lot of stunts. More than football season probably. Since [the coach] likes to switch it up and not do the same stuff at every game, I feel like we'll be having a lot more stuff," said Stanley. "They can expect a lot of different [activity] at every game…and stuff that gets the student section involved, like signs."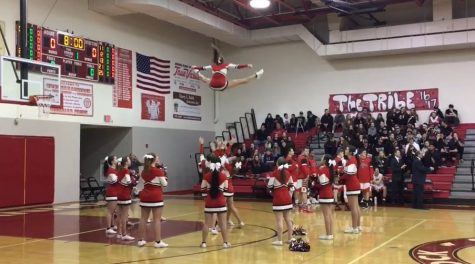 They plan to do things that the crowd does not expect, like riskier stunts and more out of the box moves.
Nolan enjoys how basketball cheer allows the team to get more done because there are more games with fewer weather-related issues.
"I like the fact it's inside and games can't get canceled, like our first…home football game of the season…was postponed halfway through the game…and it was kind of terrible. It was raining, and you're out there in the cold, and in basketball season it's nice and warm. Always warm, and the games don't get cancelled as much," said Nolan.
As someone who has done high school cheer for years, Nolan can tell that this will be a time of learning for the new members on the large team of eighteen girls.
"I expect it to be a transition from football season because we gained a lot of new kids that have never done varsity cheer before, and it's very different from the junior high teams they were on because they're ninth graders," said Nolan.
Cheer Coach Jessica Beste has been leading varsity since 2005 and puts a lot of the responsibility onto the students on the team.
"My expectation is that I have three captains, so [seniors] Gillian Snader, Megan Ellis and Hannah Kight. They call the game completely," said Beste. "I completely believe that the team…should run the activity that they are a part of. My job is to…ensure their safety…to teach them technique and skill, but when it comes down to the game and the choices that they make on what they do or how they do it, it's really something that I leave up to the girls so that they can take more ownership…in the performance that they give."
A majority of the moves that people see at games are designed by the students rather than Beste.
"They love to take risks. If they see something on social media, like we follow a lot of nationally accredited cheer gyms all over the world, so we try something. The difficult thing with high school cheerleading is that there are a lot of rules and regulations on like heights of things, so we try to adhere to them, but we also kind of max those rules out to our benefit so we can push ourselves even more. Even though they are a high school team, they could outperform a lot of higher level college competitive teams as well," said Beste.
Both Beste and the girls on the team have high expectations for what they create.
"Basketball cheer is a little bit different because you're much more close to the fans," said Beste. "I tell them…there's a timeout in basketball, there's nothing going on at all except for the middle of the court. That's where all your attention is drawn…I have an extremely high expectation of them because we are so…underrated. A lot of people look at my team and say 'oh, they just kind of sit and yell' or 'they just stand up and throw a girl around. That's not that hard' so we kind of fight that battle that if we make one mistake, that's all people remember."
Basketball season brings more work onto the cheerleading team that they look forward to undertaking.