Susquehannock Swimmers Succeed in County Meet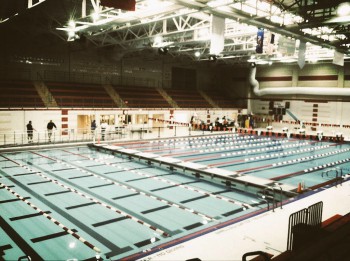 Hang on for a minute...we're trying to find some more stories you might like.
The Susquehannock swimming team is in the midst of wrapping up another successful season. Team meets are over with, but many successful swimmers still had unfinished business. Susquehannock saw many of their members recently compete in the YAIAA county championship meet on February 9-10 at Central York.
Many participants viewed this event as a last shot to qualify for districts in the coming weeks. Senior Dean Lochte went into the meet hoping for not only individual success, but for the rest of his teammates. "We wanted to get as many gold medals as possible, and as many to districts as we could," said Lochte.
For the girls, sophomore Katlyn Baer earned 8th place in the 200 meter freestyle. The boys team also saw many great performances. The team of freshmen Rohit Kandala and Logan McFadden, sophomore Matt Keuler, and senior Justin Reed took 6th place in the 200 medley relay. Reed also earned a silver in the 100 meter breaststroke and 100 meter fly, in which he took the school record at a time of 52.14 seconds.
For the Warriors, the meet's standout performer was freshman Logan McFadden. McFadden took 2nd place in the 200 individual medley and took the victory in the 500 meter freestyle with a time of 4:42.01. This performance led McFadden to Athlete of The Week honors by GameTimePA.
Junior Nate Hunsinger, who also competed in the meet and will move on to districts said, "We went in strong. Overall, we wanted to improve ourselves and beat our personal records." "Everyone stepped up, Hunsinger said, "we had people who were able to qualify for districts and states. We put in work, and the work all paid off." The season continues for many swimmers in the district meet on March 3 and 4, and some will eventually proceed to states. "We're hungry," said Hunsinger, "we're trying to get to states, so we've been practicing hard and we'll continue to work hard. We'll be ready."