App of the Week: 'Kendall and Kylie'
Hang on for a minute...we're trying to find some more stories you might like.
Internet sensations Kendall and Kylie Jenner have had yet another mobile hit. Ranking number 35 on the free apps chart on Apple's App Store, their game, called Kendall and Kylie, has had tremendous success ever since its release on February 17, 2016.
They teamed up with Glu Mobile to create this game, much like their old sister Kim Kardashian. In fact, the game is almost identical to Kim's game Kim Kardashian: Hollywood.
Junior Stephanie Gardecki has played both games and saw the similarities between the two immediately.
"Not gonna lie, it's exactly like the Kim game," Gardecki said. "I'm not hating or anything but not a lot of originality or uniqueness was put into this game, but I still play it. The graphics are better."
Both games' premises are to gain as many followers as possible and to work your way up to being the most followed person on the app. You begin by getting a relatively low-paying job in Santa Monica, and then progress upward by attending various events where you gain more followers.
At each of these events, you have a set time to get 5 stars and successfully complete the event. The way to get 5 stars is to hit buttons that use up your character's energy.
You only have a limited amount of energy, so while you are waiting for your energy to be replenished, there isn't very much for you to do. Shopping and customizing your character are some of the only options during these times.
A complaint among players of the game, such as junior Brittany Roberts, is that the events can take a long time to complete. Some are as short as one hour, but many are eight hours long.
"The events became too long for me to complete them," Roberts said.
Throughout the game, you get to see just how superficial Hollywood really is. The conversations you have with people during the game are superficial, with no meaningful conversations.
Even the game's ideas are superficial- you're just trying to get the most followers, and you don't care who you have to drag down to do it.
For many people, despite the initial obsession and addiction to the game, it only lasted for a short while. Junior Hayden Parmer started off playing the game regularly, but now feels that the game has gotten old.
"The game seemed okay at first, but it quickly got old and meaningless," Parmer said. "What's the point of creating a fake life that no real people care about? It only emphasized why I never really got into social media."
Despite some of the negative feedback the game has gotten, it still has had a lot of widespread success. The company producing the game also has made the decision to make more games with other celebrities, such as Taylor Swift.

About the Writer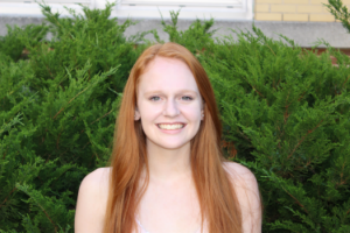 Emily Rivers, Assistant Editor-in-Chief
Senior Emily Rivers has been on the Courier staff for two years. As well as being involved in the school's news website, she is a member of the yearbook production staff, National Honor Society, orchestra and choir. Outside of school, she is an active member of her church, Shrewsbury Assembly of God. She hopes to major in public relations in college and become an event planner.