What Valentine's Day Means to Students at SHS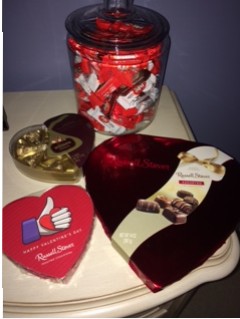 Hang on for a minute...we're trying to find some more stories you might like.
Envy, sadness, indifference and happiness are stirred up by Valentine's Day. To see the contrast of emotions this controversial day brings, students were asked the following questions:
How does Valentine's Day make you feel and why?
What are your thoughts on Valentine's Day?
"I don't necessarily like it because people should show love every day of the year, not just go all out one day and not any other day," said junior Hailee Yeager.

"Valentine's Day is just another holiday created to make money because true love is shown through things other than chocolate and stuffed bears," said junior Mackenzie Gibson.

"Valentine's Day is a good day to reflect on the good and pure in the world even if you're alone and ultimately incredibly sad," said junior Sierra Breeding.

"I like Valentine's Day, not so much for the romantic part, but for the chocolate. I love trying all of the chocolates in the heart boxes. I also really like making and eating chocolate covered strawberries," said junior Kimberly Thomas.

"I think that Valentine's Day is a day that people can express their love for each other in outstanding ways, which is pretty great," said junior Mackenzie Marzullo.

"Being single on Valentine's Day is my favorite time because I can stare at all the couples and cry [Just kidding]," said junior Chase Summers.

"It's okay if someone doesn't love you on Valentine's Day because it's basically saying they won't love you any other day of the year," said sophomore Kasey Wolfe.

"Since Valentine's Day is my birthday, I really like it…  and I expect a valentine [haha]," said junior Aaron Bilbie.

"I find Valentine's Day overrated because it's saying you only love someone one day a year instead of every day, which is kind of mean," said sophomore Lauren Hallameyer.

"I like this holiday because I think it's cute buying heart-shaped boxes of chocolates for my friends. It's cheesy, but even though we don't always have valentines, we have each other and can eat the chocolate," said junior Danielle Moore.