McDonnell and Banchiere Dominate in Cross Country
By Grace Burns, Assistant Editor-in-Chief
November 4, 2015
 Two sets of unwavering eyes belonging to two exceptional cross country runners are not letting the finish line out of their sight this season.  
  These eyes are those of seniors Joey McDonnell and Rachel Banchiere, who are leaving unforgettable legacies as runners.  Both hold school records for the Susquehannock course; Banchiere broke the previous record in 2013 with a 20:34, and McDonnell ran a 17:44 during this season to take the top spot.  
  Cross country has become important and enjoyable aspects of both athletes' lives throughout their time as runners.  
  Banchiere has been running cross country for six years and has continued to appreciate the unity within the team she has grown close to over the years.
  "[Running] is relaxing and fun," said Banchiere. "I also like the whole team aspect where we all get really close and are like a family."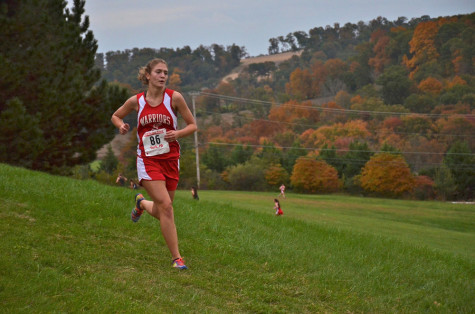 Throughout their senior season, the two have been continuously achieving their goals and exceeding expectations.  At the Bull Run Hereford Invitational and YAIAA Championship Meet, both McDonnell and Banchiere medaled and went on to qualify for districts.    
  Head coach Steve Stough, who has been coaching at Susquehannock for 29 years, praises McDonnell and Banchiere for their strong work ethics and constant effort.
  "They are very good goal setters," said Stough. "They always give me 100% in practice.  They are just two hard-working kids."
  Both runners' dedication was evident at districts on Saturday, October 31 where they performed remarkably well.  Banchiere finished in 29th place, and McDonnell came in 7th with an outstanding time of 16:42, qualifying him for states.
  Advancing to states has been a goal of McDonnell's and is now in his grasp.  McDonnell, who has been on the cross country team for five years, greatly enjoys being able to step back and see his progression over time as a runner.
  "I think it's really rewarding to put all that effort into practice and see how much you improve over the course of the season," said McDonnell.
  Not only has McDonnell been able to see how far he has come, but Stough has taken notice as well.
  "When [Joey] came to us, he was just another runner…" said Stough. "I certainly wouldn't have thought the talent was there that is there, and last year in the middle of cross country season … he made this incredible leap from being average to being very, very, very good."
  Both Banchiere and McDonnell are considering running cross country in the future, and Stough believes that either could easily run at the college level.  Currently, Banchiere is looking at York College and East Stroudsburg University while McDonnell is eyeing Penn State.  
  No matter what the future has in store for them, the impact they have had on the Susquehannock cross country team will always be with them.