Choir Students Harmonize With Professionals In Disney World
By Grace Burns, Assistant Editor-in-Chief
December 11, 2014
Several members of the high school choir explored Disney World and participated in a memorable performance from Wednesday, December 3 until Sunday, December 7.  
Perhaps the most special aspect of the trip was the candlelight procession at Epcot, one of four theme parks in Disney World. Students combined with both the professional Liberty Choir, other students from all over the country and Jonathan Groff, who played Kristoff in Frozen, to perform for an audience of 2,000 people.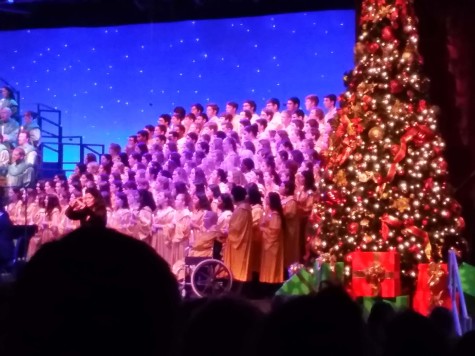 Junior Amy Whitesell was elated to be a part of the procession as the performance was the highlight of her experience on the trip.
"I had chills up on stage," said Whitesell. "It was incredible and not something I'll forget anytime soon."
Performers sang all their pieces, including well-known Christmas songs arranged by Disney with a full orchestra such as "Oh Holy Night" and "O Come All Ye Faithful."  In addition, the group sang a few songs in foreign languages, including "What Child Is This" with a Spanish part, "Il est Ne" in French, and "Silent Night" in German.
Senior Juanita Childs would definitely recommend the trip to future students because she thoroughly enjoyed herself alongside her peers.
"The choir grew as a whole," said Childs. "I will be taking away definitely the musical aspects of [the experience] and confidence."
To further enhance their experience in Epcot, students got a chance to tour the backstage of the performance center and see where rehearsals for various Disney performances are held.
For the remainder of the days, students visited all four theme parks that make up Disney: Magic Kingdom, Epcot, Disney's Hollywood Studios and Disney's Animal Kingdom.  This gave them a chance to not only get to know each other better, but also enjoy rides and attractions with their friends.  Even in their downtime on the airplane to and from Disney, many students created unforgettable memories.
Music teacher and choral director Jay Althouse hopes students benefitted from the exposure to a professional stage at Disney.
"[I hope students have learned] dedication to creating good music, the process of creating good music and that choir is somewhere where they can have fun and be themselves," said Althouse.
With an extremely positive response from most who went on the trip, clearly students gained both exposure to a professional setting and a stronger sense of unity within the entire choir group.