Homecoming Proposals Help Students Seal the Deal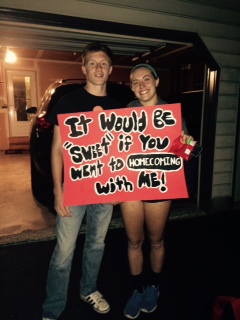 With homecoming two weeks earlier than last year, students are quickly scrambling to find the best homecoming proposal ideas.
Whether it's flashy or personal, if you want a date for homecoming, you have to pop the question somehow. Students this year are finding creative ways to get their dates to say yes.
Senior Rulbeing Quiles asked junior Maddie McGowen with possibly one of the most creative ways this year.
"I went in her room and wrapped it with caution tape all around, and then I laid down and laid out tape as my body," said Quiles. "I laid there for like 20 minutes; she took forever to come home, so I just sat there and waited. I made a sign saying 'I'm dying to go with you to homecoming' with Maddie at the top. When she came in, I was sitting there."
According to Quiles, McGowan's sister helped out, and the whole plan only took a day. McGowen didn't imagine her proposal to be anything as thorough as a mock crime scene.
"He told me he was doing something elaborate, but I didn't think it would be that elaborate. I was impressed," said McGowen.
A popular idea this year was utilizing candy in the proposal. Junior Emily Landis helped Junior Luke Thomas ask classmate Kelly Franz with skittles and a poster.
"I came home from practice and Emily and Luke were standing by my garage," said Franz. "Luke had a sign that said 'It would be sweet if you would go to homecoming with me' and there were skittles."
Like Quiles, it only took Thomas a day to brainstorm the idea and execute the proposal. Although it did not take the guys too long to plan, people are beginning to wonder if extreme proposals are necessary. Questions are going around this homecoming season like "Does a homecoming proposal need to be elaborate?" and "Are girls expecting too much from their dates?"
Both Franz and McGowen agreed that girls may place too much value on the proposal; however, the effort from the guy does help the girl when making her decision.
"If they put a lot of time and thought in to it, it shows how much they want to go with that person," said McGowen.
The guys are also finding creative proposals necessary this year. Some think in order to even be considered as the girl's date, they must plan something that will grab more attention than the other proposals.
"I guess [it was expected] because everyone else is doing it," said Thomas. "You want to match what they're doing or do it better."
With or without a date,homecoming will be a night to remember consisting of pictures, dinner and of course the dance. After the stress of finding a date is over, students are able to relax and have a good time together.