AP Courses Provide Beneficial Challenges
By Grace Burns, Assistant Editor-in-Chief
September 28, 2014
For students taking advanced placement courses, or AP courses, the school year presents many academic challenges leading up to those important exams in May.
Taking AP classes is a great way to develop the types of academic skills necessary for college courses.  With the completion of several AP courses, students can earn college credits and, in turn, be able to take elective courses or a double major or minor.  Many colleges also look for students  who have challenged themselves by taking high-level AP courses.  With the wide variety of AP classes offered at Susquehannock, students can discover their interests by trying different subjects.
English
The sole AP course offered in English is AP English Literature and Composition.  Centered on deep literary analysis of several works of literature, the course is designed to prepare students for the Advanced Placement English Examination in May.
Senior Destiny Boone has taken many AP courses in the past and is currently taking this course.  Although she does not plan on majoring in English, Boone has greatly enjoyed the material so far and feels it will benefit her in college.
"When you get to college," said Boone. "You're going to need to know how to write in-depth essays, and in this class, you'll be writing most of the time, so it will help you."
Teacher Katharine Wilt has been teaching the course for five years and has been proud of the students' performance on the cumulative exam at the end of the year.
By exposing students to material similar to what they will see on the exam, Wilt aims to assist students in preparing for the exam in a variety of ways.
"We base all of our assessments off of the way the test will be," said Wilt. "Essays are set up in the same format, and the same kinds of directions are given.  We practice multiple choice quizzes along the way based off of our literature, and then we look at old tests in their entirety to see what they look like."
Math
AP Calculus AB, AP Calculus BC, and AP Statistics are the courses offered in mathematics. In AP Statistics, students explore the various aspects of forming conclusions from data. AP Calculus AB is focused on developing a solid understanding of calculus in preparation for the exam in May.
Senior Justin Quackenbush, who has experienced many AP courses in previous years, is currently taking AP Calculus AB and has found the course material to be understandable and a good building block for his mathematical major.  He plans to take the AP exam and review thoroughly, so he can benefit.
"The biggest advantage is probably the college credit," said Quackenbush. "It will cut down on costs."
Building on the concepts in AP Calculus AB, AP Calculus BC also includes new applications and problems.  As teacher of both AP Calculus courses, JC Lewis starts reviewing for the exams midway through spring to refresh student's memories.  The average of students' scores on these exams has been a four or five, which shows how impressive students have performed in the past.
Lewis expects the best effort from each student as the courses are fast-paced and rigorous.
"I think you get a college experience," said Lewis. "But with the help of the high school environment and high school teachers."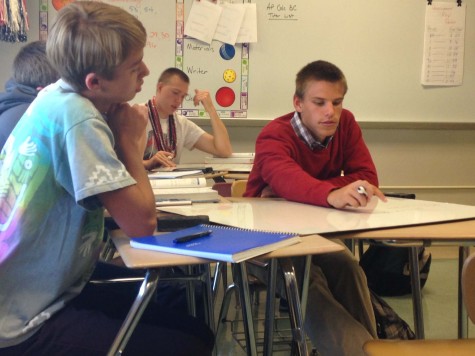 Science
AP Biology, AP Chemistry, AP Environmental Science and AP Physics are among the advanced placement classes in the scientific field.  Giving detailed insight into the rapidly changing science of biology, AP Biology is a high-level course that requires intense critical thinking and dedication.  AP Environmental Science incorporates environmental problems and the natural world.
As the teacher for both AP Biology and AP Environmental Science, Barbara Nealon looks to greatly challenge students and prepare them for the critical analysis on the exams.
"If I can get you to constantly think and constantly ask you questions about using the information, then I can prepare you," said Nealon. "The hardest thing for students is to learn that you learn by making mistakes and making that shift to 'it's okay to not know because I'm going to find out.'"
Junior LilyAnn Yoakum is taking both courses taught by Nealon and has juggled the courses successfully so far while also enjoying taking them.
"I took these courses because I plan on majoring in a medical science field," said Yoakum. "So this will help me get a jumpstart for college."
Social Studies
  The various classes offered in this subject are AP European History, AP Human Geography, AP Psychology, AP United States Government and Politics, and AP United States History.  Students can obtain a plethora of knowledge about many different aspects of social studies through these courses.
In AP Human Geography, students performed extremely well on the exam last year, scoring an average of a 4.05, which greatly exceeds the global average of 2.63.  Teacher Matt Amberman has been more than pleased with the results and hopes to continue the trend of high scores this year as he helps students to prepare.
"I try to model the tests for them," said Amberman. "And show them what it takes to get a five versus a four versus or a three.  I try to emphasize the important concepts and how to use deductive reasoning to answer multiple choice questions."
Junior Megan Keuler is taking AP Psychology and admits that it has been hard, but she is determined to set herself up for success in college.
"I decided to take this course because I am looking into nursing when I am older and psychology is a good class to take," said Keuler. "I was hoping to get college credit for it."
As she prepares to take the exam, Keuler is planning on studying diligently especially as the year progresses.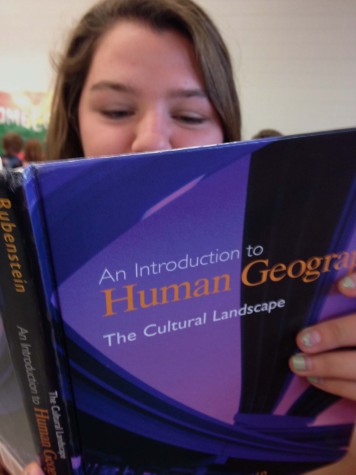 Although taking AP courses may come off as stressful, hard work and perseverance leading to a high score on the exam can ultimately benefit a student not only throughout high school, but also majorly in college.  More information on the AP courses offered at Susquehannock can be found in the 2014-15 Course Selection Guide.