'The Fabelmens' Illustrates Story of Spielberg's Life
"The Fablemens" is a heartfelt story worth watching that is loosely based on Steven Spielberg's life. The young Steven Spielberg or, at least his on-screen avatar Sammy Fabelman played by Gabriel LaBelle, learns a lot in this film.. 
In the 2022 film, "The Fabelmans," written and directed by Steven Spielberg, the art of film is glorified as it should be. "The Fabelmans" is a film loosely based off of Steven Spielberg's life, as him at a young age and his family were struggling with their parents divorce and moving from place to place because of their father's work. This part of his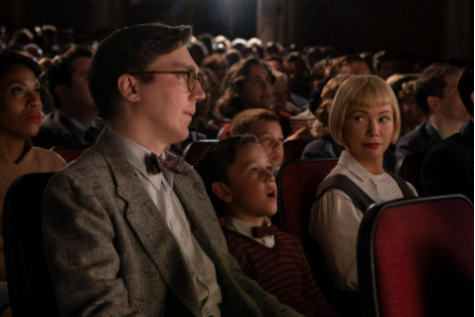 life is depicted in an alternate way with a Jewish family, the Fabelmens, and the main character of the story, being Sammy Fablemen.
Spielberg learns about his parents, about himself, about secrets, about lies, about death, about art, about anti-Semitism, about chaotic monkeys and, of course, about filmmaking.
After a formative trip to the cinema, Sammy begins making home movies and soon discovers how the camera can comfort, thrill and shock. He also learns what cinema tells us about people, how it can elevate them, reflect them and devastate them. Most of all, he learns how it can give us truth.
 The movie begins with a young Sammy Fabelmen and his parents in 1952 at the movie theaters as his parents are taking him to go see his first film (1952's "The Greatest Show On Earth"). In the film, a train crash is depicted, and this scene in the film sticks with him; he can't get it out of his head. Sammy asks his family for a toy train for Hanukkah, and when his wish comes true, he becomes mesmerized by the train and crashes it over and over again, trying to recreate the scene that he cant get out of his head.
His family gets mad at him for breaking his new toy, so his mom, played by Michelle Williams, starts thinking and brings a film camera to film the trains crashing so that he does not have to break his toy anymore. This causes his love for making movies early on; when Sammy is 15, he makes a western and war short film.
 One of the most meaningful scenes of the film is the prom scene where many of the themes are expressed. In the film, when the family has to move, Sammy is sent to a new school where he is bullied by a kid named Logan about his religion, but his passion for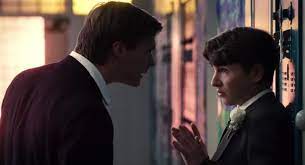 filmmaking lives. Later that year at prom, Sammy shows a film he made of the school's ditch day. Sammy made Logan the main focus of the short film, leaving the bully confused, yet grateful. When a friend of Logan's who had also previously bullied Sammy steps into the conversation and threatens Sammy, Logan protects him, standing up to his friend after realizing how poorly he had treated Sammy. This shows a lot about how film can move someone, no matter how mean or different you are.
Another big theme seen throughout this film is family, shown through Sammy's mom Mitzi, who is a classical concert pianist who mostly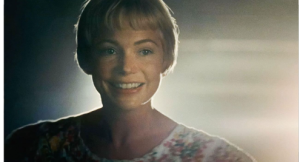 gave that up to raise her kids. An early night-time sequence during a family camping trip has Mitzi drunkenly dancing in a see-through gown, backlit by car headlights. It is a magical moment, beautifully scored by John Williams, who gives Mitzi the same sense of awe and wonder he gave E.T. Her family is concerned but absolutely bewitched, and Spielberg makes us feel just the same.
Despite the film's often upsetting scenes, an impish playfulness is always seen throughout. This is not a documentary.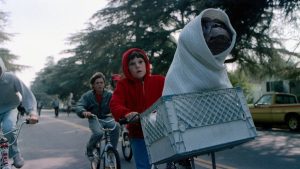 Though almost entirely based on truth, it often feels a slight push from reality. Spielberg hasn't renamed his family the Fabelmans for nothing, and there's almost a gloss to it- but that's just love. It is charming, and it is funny, a sunny disposition offsetting the sorrow. It is one big broken heart, but throughout there is vibrancy and life.
After previously seeing them all wrapped up in genre, it feels gently shocking to discover so candidly where some of the thematic elements in Spielberg's work stem from, especially the fractured family storylines threaded through "Close Encounters" and "E.T.," which feels very connected to the traumatic events in Spielberg's life.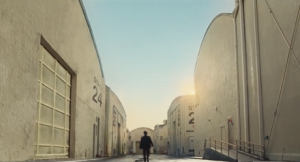 Yet also, this film is the result of all of the filmmaking depicted in this movie; 50 years of craft culminating in the story of Spielberg's life. The very final shot of the film makes it clear that it is all about perspective. So yes, only now, heading towards 80, was he ready to make this film, and make it this well. It is a glowing, transcendent tribute to his mom and dad. It finishes joyfully, and your heart is fed.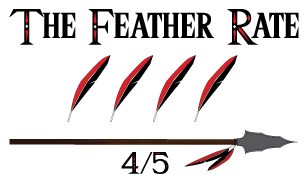 Leave a Comment