'Wonder Woman 1984' Slams the Box Office
January 19, 2021
With the well known darker tones to the DC universe movies, "Wonder Woman" (2017) brings a breath of fresh air to its fans with color and a story to grab onto that shows female empowerment. 
Directed by Patty Jenkins, its sequel is a bit more lighthearted with a seemingly simple plot like those from the 80s, which ironically fits.
A critique like that may seem backhanded for the piece of artwork that is "Wonder Woman 1984" (2020). 
Released back in December, "Wonder Woman 1984" was a film that helped close the year on a high note.
With brilliant camera work and an expected critic praised performance from Gal Gadot, the movie brings more life to the now highly loved character of Wonder Woman. 
The plot focuses on the '80s, as is implied by the title.
Diana Prince, aka Wonder Woman, is trying her best to lay low and enjoy the fun from the decade- a time where many seemed to just think they had or wanted it all.
At this point in time, she has found her strength and her highest form of power that she knows, but all too soon the world tests her power again when she has to face off with Maxwell Lord (Pedro Pascal) and the Cheetah (Kristin Wiig). 
The stars of the film projects effortless chemistry on and off set which, in the end, creates a seemingly natural performance on camera, helping the viewers take in all that occurred. 
Another high for the film that should be credited is the outstanding work by the predominant female crew and creators behind it. 
Directed and produced by Patty Jenkins, along with several other women- just like its predecessor, helps the movie scream girl power.
This theme was purposefully set with the idea of Wonder Woman as a superhero character. 
But with as many highs as the movie has, there are some lows that need to be brought to attention. 
One of the obvious flaws within the film comes from the time period. 
The '80s is such a commonly used time period due to its creative range, from color to music to style to ideas and symbols, but what "Wonder Woman 1984" has done is taken that idea and ran a bit too far. 
It seems very pressed to push the time period, not like the title doesn't already give it away.
From the colorful collared polo t-shirts, to the arcade to a neon lit triple decker mall, it seemed it was trying too hard.
Sure there is fun when fellow actor Chris Pine has a moment in parachute pants which leads to a comical breakdancing routine.
Yes…breakdancing.
But it is not just the visual symbolism that makes the movie so forcefully in the '80s, but also its screenplay. 
Many plot-devices seem straight out of a comedy from the decade, the ancient stone gives its holder anything they desire-predicaments come as a result,  but the audience knows how it will end.
However, that does not necessarily mean it's a bad film, it is using a well known structure for its plot.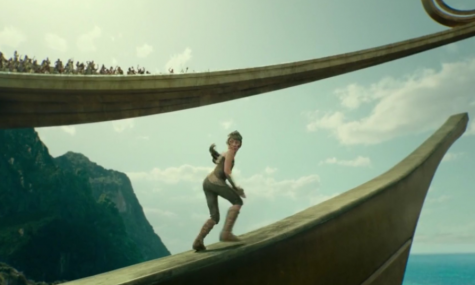 The reason it is well known, and overused, is because it works. Countless times it worked. 
Sure the movie doesn't take itself seriously at times, but with it being the closing box office movie of a catastrophic year, some lighthearted fun for the viewers does not seem too bad. 
People need to be reminded that there can be a happy ending, and "Wonder Woman 1984" delivered.