Homecoming Queen Virginia Good Keeps it Real
November 10, 2020
There is so much more than a tiara and a sash to homecoming queen Virginia Good.
Good was surprised when she was chosen to be one the court.
"The entire court thing really wasn't my thing, and I really, really wasn't expecting to be on the court," said Good. "The race itself also made me want to shrink because while I like attention from a close circle of friends, being put on that pedestal made me so uncomfortable."
Although the idea had made her uneasy at the time, meeting the other members of the court made her feel included and happy about it all.
"I felt very different from the other girls at first because while we've always been friendly in classes, I never really hang out with any of the other girls outside of school," said Good. "Being able to go out and eat with the girls after the homecoming game was awesome, getting to know them all better was so much fun."
When asked what she wanted to do with her life when her senior year is over, she had a different response from the first time she was asked.
"I know that I said that I want to marry rich after high school, but surprise, I do have actual goals and aspirations outside of being an absolute smoke-show trophy wife," said Good.
Summer camp experiences have influenced her future plans.
"I've been going to summer camp every year since I was 10 years old, and I'm so incredibly grateful that I had that opportunity because I don't think that I wouldn't be the person I am today without all those weeks in a tent in the woods," said Good. "I want to spend the rest of my life protecting places like that and giving other kids the same opportunity that I had to be able to make lifelong friends and to learn from nature. I'm not 100% sure how I'm going to do that yet, but I have a pretty good idea."
Good has also been a part of the SYCSD family from the beginning, and she likes to think that it has shaped her as well.
"My favorite experiences by far are being able to meet and grow with all of my friends in all of the years that we've spent together in this relatively small district," said Good. "Growing up, learning, and spending countless hours of time with all of the people (the friends she made) that I've been close to isn't anything that I would trade the world for."
Outside of school, Good works at the local Chipotle in Shrewsbury, hangs out with friends and helps out with the costume crew, which in her mind, was a huge stepping stone in her high school career.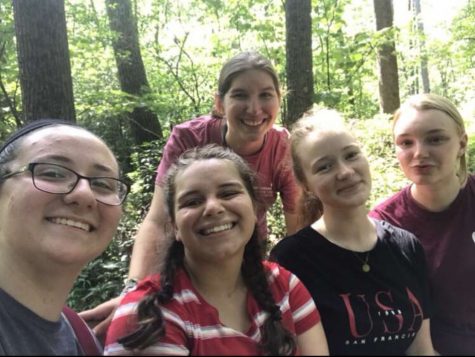 "Costume crew really opened my eyes to a lot of things," said Good. "I met so many people that are so involved and dedicated to their craft, and I have created so many memories that I won't forget."
Good also finds time to watch reality drama TV and read cheesy novels; she finds it entertaining, and it helps distract her from the real life drama in the world.
"I watch a lot of  "Love Island" and read a lot of "Twilight." I only consume the most valuable, educational and high quality content and literature," said Good. "Note my sarcasm, but they help me to not take life too seriously."
Good expressed how taking life too seriously sometimes found her in a darker place, overwhelming her and making the struggle a bit too real.
"The hardest thing that I've learned in high school was in the second semester of my junior year," said Good. "I lost almost complete control of my mental health, my school work, my time, my grades and my GPA. If I had asked for help in October 2019 when I first fell behind, I don't think that I would have ended the third marking period with a 1.5 GPA. Your junior year is supposed to be your most important when it comes to getting accepted into colleges, and I tanked it. I'm really not proud of this, but my stupid pride got in the way."
Good has advice for those like her who either are struggling with their work or were struggling with their assignments.
"Please ask for help. You're not dumb. You're not weak," said Good. "No secure person is going to judge you for getting the help you need. You're not the first person to ask for help, and you are by no means the last person to ask for help either. Nobody is in complete control no matter how put together they seem."