Indoor Percussion Travels through Time
The indoor percussion their new show, "A Twist In Time," at their last competition at Conestoga Valley, placing first. 
There are 12 returning members and four new ones with nine in the front ensemble and seven in the battery percussion.
Soloists include Riley Clark, Cody Choate, Ian Davis, Maura Johnson and Jacob Delozier.
Instructors include James McGarvery, Bryan Harris, John Malowskis, Corey Moore, Joe Forney, Mark Weaver and Kaity Martin.
The group competes in a Keystone Indoor Drill Association circuit they perform in, which includes color guards and drumlines in and around the Pennsylvania area.
They are in the gold division this year, competing against nine other groups.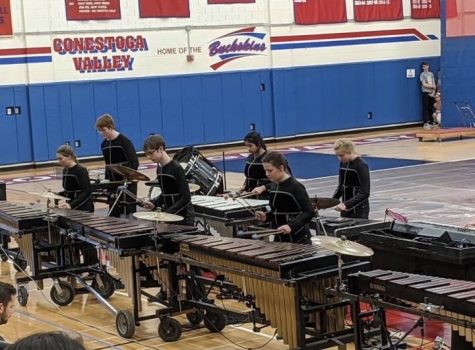 Senior Amber Brose has been in indoor percussion for three years and is the section leader.
"It's more than just notes, it's an experience. It's a show, we are trying to convey emotions," said Brose. 
The show is called "A Twist in Time," which takes the viewer through four movements of time.
The first movement explains what time means, while the second describes the flexibility of it.
The third movement goes down a darker path, showing the regrets of time – it asks the viewer if they would go back in time and change a bad part of history.
The last movement affirms that the future is positive.
The music is composed by Jeremy Strawm.
The members' uniforms reflect the show – dark outfits with geometric designs and capes.
Their props also add a setting that reflects the show's themes, and they were constructed and designed by McGarvey and Craig Rohrbaugh.
"We're pretty proud of them because we have that really tall pendulum. Which is kind of crazy but pretty cool when you get it going," McGarvey said.
Props include a 14.5 foot pendulum, operated by junior Ian Pohlig during the show, and a digitally printed backdrop and floor.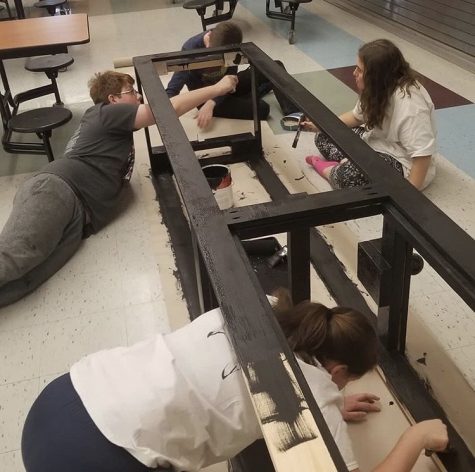 The students practice for up to 13 hours a week to gear up for the competitions.
The season was cut short due to the spread of the coronavirus, causing their season to end on March 12.