Warrior Swimming Stays Alive
The swim team had two swimmers and one diver showcase strong performances at the PIAA District III Championships. 
The Warriors, as a team, took third overall.
Sophomore Max Pflieger was crowned the 2A Diving Champion.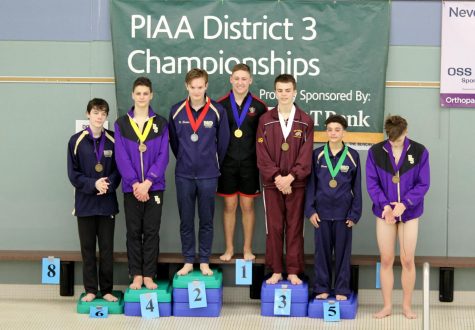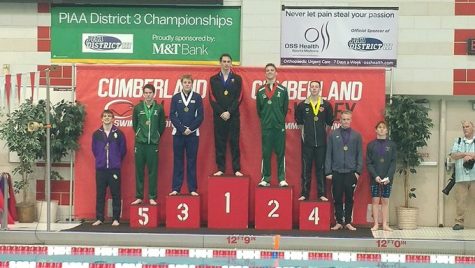 Pflieger placed first at Big Spring High School as he performed the highest scoring dives on 7 of the 11 rounds of the competition. 
Pfieger's point total still outscored the second place diver by 91 points. 
Pflieger placed in districts last season, but fell short. Now, he has bigger goals for himself this season. 
"My goal is to make it to states and score 400 points on an 11 dive meet," said Pflieger. 
He will move on to the state championships at Bucknell University on March 13. 
Senior Logan McFadden has also been a very promising swimmer ever since his freshman year.
McFadden was the 200 IM Champion and set a new PIAA District 3 record in the 500 Free with a time of 4:35:99, the fastest time recorded ever in the event. 
McFadden was thrilled after achieving such a high honor that many have failed to do.
"It felt really good to break the district record; it was really nice to see my hard work pay off," said McFadden.
McFadden has accomplished a lot in his early swimming career, but has so many goals left to complete.
"My goal for states is to win and break the school records. Going into high level meets, I keep myself calm by remembering all of the hard work that I have put in throughout the season. Before I race I just tell myself I have worked harder than the other swimmers here and try and keep my confidence high," said McFadden.
Freshman Jake Wade also showcased a strong performance for the Warriors. 
Being a freshman with such a big role can be tough but Wade was not affected. 
"I knew in my first meet of the year at Red Lion the pressure was on because Logan and Rohit, who scored a ton every meet, were not swimming that night. After winning that meet with both of them out, the nervousness didn't really affect me after that," said Wade. 
McFadden, Wade and Pflieger will compete next week at the PIAA State Championships at Bucknell University on March 12 and 13.