Boys Swim Team Splashes at District Championships
The boys swim team swam their way into a successful season, ending with a record of 4-1 and taking second in the Division.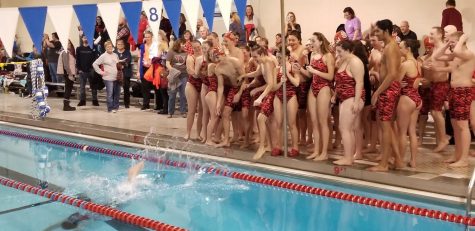 Senior captain Logan McFadden makes his way to states after achieving multiple accomplishments throughout the season.
"For states I am just continuing to practice hard and stay focused on my goal times for states," said McFadden. "I see myself having a very good chance at winning states, which is my ultimate goal for the season."
McFadden will head to Bucknell University to compete in the state tournament March 10 through 14.
On the diving side of the team, sophomore Max Pfliger works hard in both diving and swimming.
"I swim 50 free, and most of the relays at a swim meet," said Pfliger. "I was able to swim at counties to help out the team."
Not only is Pfliger successful in the swimming events, he has made school history because of his accomplishments in diving.
"Winning districts was just a great feeling. I was very excited and beyond happy with how I did at the meet," said Pfliger. "This is my second year going to states so I am very excited to go back and dive again while representing Susky."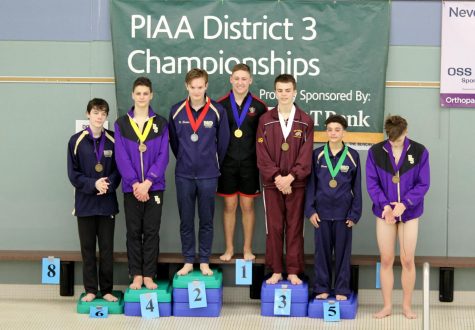 Between McFadden and Pfliger, the boys swimming team is very talented. 
11 boys competed at the PIAA District III 2A championships.
McFadden won gold in both the 200 IM and 500 free. Within the 500 free event, he set a District III meet record with a time of 4:35.99.
Freshman Jake Wade placed fourth in the 50 free and eighth in the 100 backstroke.
As a team, they won gold in the 200 free relay, silver in the 400 free relay setting a new school record time of 3:19.06, and finished third overall at the District 2A Championships. 
Throughout the District III meet, coaches and teammates were pleased with the outcomes.
Head Coach Brian Wingert  comments on his team's performances.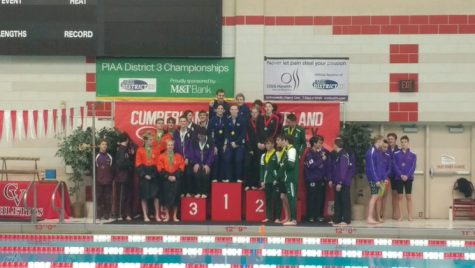 "Outstanding is the best word for it," said Wingert. "It's mind boggling. I knew we had a shot in the school records in the two relays we took to Districts, but I did not know we would break them by as much as we did."
Wingert was impressed on how the boys performed and worked as a team. 
The boys will compete in States at Bucknell University beginning on March 10.