'70s Tunes Worth Listening To
Today's music space is dominated by artists whose names always seem to start with "Lil."
This is an exaggeration, but I do see a lot of the explicit "E"s, a lot of rap and a lot of "Lil"s in front of many artists' names on Apple Music's "Top 100: USA" list.
When I browse over this list, which is comprised of the top-played songs in the U.S. and updated daily, I see a number of songs with the same formula.
I see a lot of the explicit "E"s, a lot of rap and a lot of "Lil"s in front of many artists' names.
Perhaps there isn't anything wrong with this; it is what people are enjoying, according to the charts.
Personally, I am not a fan of this kind of music.
Instead, I enjoy a lot of the oldies – specifically old hits from the '70s.
This decade has some of the very best for music, and as a way to promote some enjoyable, older tunes, here are some of the best songs of the '70s decade.
"The Joker" by Steve Miller Band (1973)
This song is probably best known for its use of the word "pompitous," but this is not a word, and that alone has seemingly captured people's attention.
Despite that being the claim to fame for the song, it really is a relaxing tune.
It is especially a quality one to listen to on a warm Sunday drive, just hitting the open road of the country.
"The Joker" is a song by the Steve Miller Band from their 1973 album The Joker. It is one of two Steve Miller Band songs that feature the nonce word "pompatus". @SMBofficial https://t.co/Ij6TymWR6i

— 50+ Music (@50years_music) May 21, 2019
Coming off of Boston's debut album, "Peace of Mind" has a fun rock sound that instills energy.
The soaring guitars that Boston has in all their songs are on full display in this tune.
The electrifying beat is inescapable, and given just how enjoyable the song is, there's no reason to want to escape it.
Boston's self-titled debut album get's the Extended Play treatment this week. Here's a sonic sample for your ear holes. pic.twitter.com/CBa8ZFcmNa

— The EP Podcast (@extendedplaypod) December 3, 2019
"Stairway to Heaven" is hailed as one of the best songs ever made, and for good reason.
The song has four distinct sections, starting with an iconic bit on a six-string guitar, and ending its eight-minute runtime with a crisp vocals-only epilogue.
Given that songs today much more quickly get into a specific, more uniform sound, they may not be patient enough for the two-minute introduction.
Give it a listen anyhow, and transport to a wonderful, new world.
#OTD – 1971 "Stairway to Heaven" by Led Zeppelin first played live at Ulster Hall, Belfast by Robert Plant, Jimmy Page, John Bonham and John Paul Jones https://t.co/EgT5XjeJmV

— Hasampouli (@Hasampouli) March 5, 2019
Like the previous entry, "Locomotive Breath" starts with a slow, extended introduction, but after that, it is a rock-centric powerhouse.
"Locomotive Breath" blends so many fascinating sounds together, creating this great tune that one can't help but at least tap their foot to.
The song is fun, energizing and completely subverts expectations from the beginning.
It is absolutely worth a listen.
"Locomotive Breath" is a song by the British progressive rock band Jethro Tull from their 1971 album, Aqualung. Written as a comment on population growth, "Locomotive Breath" was meant to replicate the chugging rhythm of a train. @jethrotull https://t.co/TyX9Kf1PyG

— 50+ Music (@50years_music) January 19, 2020
"Free Bird" by Lynyrd Skynyrd (1973)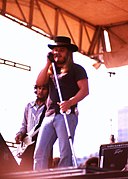 There's a trend on this list with the slow build introductions into an electrifying rock tune.
Such is the case again with "Free Bird," but this time, the song leaps into the most elaborate guitar solo put to music.
The song's four-minute slow build is not at all bad, but when the five-minute guitar solo hits, the head starts bobbing and the air-guitar starts being played.
"Free Bird" is a lot of fun and a great one to listen to on the road.