Students Engage in Trial
Students in the Science and Literature class completed a mock trial on The Martian in the last week of January.
The trial is based off of the book The Martian by Andy Weir,  and the students decided whether or not the commander of a ship, the Hermes, violated military rules by deciding to go back and rescue a crew member who has been stranded on Mars. 
Students had a week to prepare for the trial, completing the two day process afterwards, each taking a courtroom role.
Students closely analyzed the text and thought process of the characters.
They also had to build an argument with their own individual solution to the problem, where there is no right or wrong answer.
Students also got a chance to work in the moment, coming up with cross examination questions based on the testimony with no time to prepare.
English teacher Tim Groth explains the reasoning for the trial in more depth.
"A lot of times, students are used to guided questions or worksheets, but with this, by putting it into a more authentic scenario They are required to take a look at the text with a different mindset and a more realistic perspective, and that enables them to gain more from their reading," said Groth.

On the trial days, the room was set up to look like a courtroom with a witness stand, a judge's bench and a defendant and plaintiff table. 
Senior Baleigh Geiman was the judge, five students were the prosecutors who were trying to prove the commander guilty and five students were the defenders who were trying to prove her innocence.
There were also four witnesses played by seniors Mateo Vega (the Martian), Hannah Adler (the commander), Colin Myers (director of Mars operations for NASA) and Ian McDonald (head of NASA).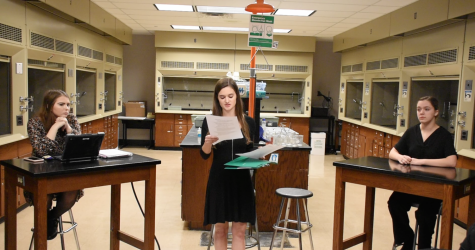 Senior Jenna Schechter was on the defense team as the cross examiner, where she tried to poke holes in the prosecution's testimony.
"The law doesn't really listen to moral reasons, more so the actual facts," said Schecter. "How it is interpreted affects a lot of people and how consequences are dealt out for certain actions." 
The commander was charged with seven charges, two of which she was found guilty of after Groth and Brobst heard the arguments from each side and was sentenced to two years in prison with a chance for parole after one year, forfeiting all pay.