'Star Wars: The Rise of Skywalker' is One of a Kind
Director J.J. Abrams took on the big role of ending the final trilogy of the Skywalker era and all the memories fans have carried for years. 
Abrams gives the audience many beautiful cinematic views that left many in awe. The movie was everything many Star Wars fans older and younger could have asked for. Many space battles, lightsaber duels, great plot events and many cute alien creatures. 
"Star Wars: The Rise of Skywalker"  is the ninth episode and latest installment of the Star Wars franchise and the final movie of the most recent trilogy.
7 confirmed new Star Wars projects are coming after this movie, including a new trilogy. 
The movie is based off of Supreme Leader Kylo Ren in search of the beloved Rey, Finn, Poe, Chewbacca, R2-D2, C3-P0 and BB-8.
The plot kicks off quickly with a quest that takes our well-known heroes on an adventure to different planets and speed chases across space, looking for clues to find their way to the infamous Emperor Palpatine. 
 The film has a runs 2 hours and 21 minutes full of nonstop action.
The film as a whole feels like it is jumping around without hardly any time for characters or moments to breathe.
Many new characters that are introduced do not have time to develop due to the fast paced storyline; therefore, you do not get the chance to develop a relationship and connect with the newly introduced characters.
"Rise of Skywalker" puts Rey and Kylo Ren front and center.
The film puts the heart strings of viewers by making many old faces appear.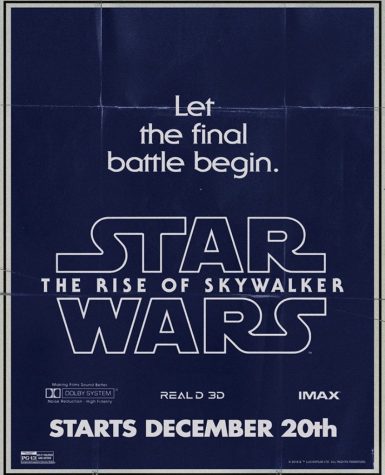 On the surface, it's all there: the fights, the space fights, the historic characters taking a final bow. Plot events happen without emotion, yet they are still amazing and kind of cool. However, it's hollow for a movie that moves so fast.
"Star Wars: The Rise of Skywalker" was overall a great film compared to the others of the most recent trilogy and a must see movie that caps off the Skywalker era in lovely fashion.